BrainCo STEM Robotic Hand and Curriculum Pack
Item #: BC-01 | Grades 5-12


$499.00




Status: Free shipping!
Overview
The Brainco STEM Kit engages educators and learners to explore STEM fields with an easy to implement, easy to scale kit modeled after real award-winning technology. The STEM-based activity and robotic hand teaches students concepts including programming, biomechanics, AI, engineering and more.
Ideal STEM exploration while away from school -
For at-home learners, the STEM Kit provides a series of curriculum units that can be self-directed at home. Clear learning goals from each unit provide definitive check in points and open ended design projects that can be assigned in a remote environment. Programming modules can also be completed completely in the browser with the option to extend to the available hardware.
Through provided curriculum, hardware and programming tools, educators can excite students in Computer Science, STEM, Career Technical Education, Biomedical Engineering, Biotech and after school programs. Whether you are looking for a full class solution or an addition to your current tools, the STEM hand can add excitement and skill-building activities from one day to full semester time frames.
Key Features
Reusable kits based on real-world technology incubated in the Harvard Innovation Labs
Over 40 hours of included curriculum, research projects, hands-on activities and more
Curriculum appropriate for Middle and High School STEM, CS, CTE, Lab Sciences, Biotech, Biomedical Engineering classes and more
In browser programming platform with AI functions, no large app downloads required
Register for the NeuroMaker Creative Challenge, which connects student projects remotely with a real-world engineering team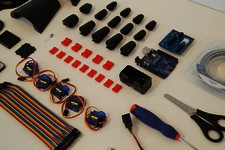 About the STEM Hand
You and your students are ready to build right out of the box. No sorting or additional work required! Clearly detailed assembly instructions along with tools and battery make the activity engaging and enjoyable for the student without much input from the teacher.
About the Block-Based Coding Platform
The BrainCo STEM Hand utilizes mBlock, a Scratch 3.0 enhanced block based programming platform. mBlock can connect to the STEM Hand directly through your web browser. mBlock can be accessed for free at https://www.mblock.cc/en-us. Learn more about setting up your hardware with mBlock here: https://www.brainco. tech/stem-kit-getting-started/
About the Modular and Expandable Curriculums
STEM Hand compatible curriculums are organized into 5 modular activities and one challenge activity. Modules include:
Project Guided Assembly
Biotech and Biomedical Exploration
Engineering Design
Life and Physical Sciences
Introduction to Programming
NeuroMaker Creative Challenge
Choose which content is right for you and get right to building! Lessons are aligned with NGSS, CSTA, ISTE and other standards.
Learn about all the lesson plans here.
What you'll receive
STEM Hand, tools and assembly instructions
STEM Curriculums
Access to webinars
1 year warranty
Learn more about the STEM Hand and Curriculum at https://www.brainco.tech/stem-kit-2/
About BrainCo
BrainCo, incubated in the Harvard Innovation Lab, develops brain-machine interface (BMI) technology products. BrainCo applies its expertise in machine learning, design, and neuroscience to create innovative brain-based applications in the education, fitness, and wellness spaces.
BrainCo engineers created the BrainCo AI Dexus Hand, which gives an accessible way for amputees to use cutting edge artificial intelligence and neuroscience to naturally control a prosthetic with their own muscle and brain signals. Since then, amputees using this technology have played the piano for the first time, regained their ability to write calligraphy, and finally given a firm handshake. For these results and more, the BrainRobotics Prosthetic Hand was awarded the Time Magazine Top Inventions of 2019, multiple Consumer Electronics Show awards and has been featured on CNBC, the Today Show and more.
This first innovation was because a group of committed engineers asked themselves how an issue they discovered could be solved. Now, we wish to ask our next question: "How do we inspire and educate the next generation of students to take on more problems in our society?"
To achieve that end, we have created the educational experience in your hand with hardware that builds STEM competencies, curricula that inspires free thinking and a free design challenge that connects your class with MIT and Harvard engineers. We hope you can invite your students to show the intersection of their learning and solving a real world problem within a defined and exciting space. As the great educator John Dewey once said, "From the standpoint of the child, the great waste in school comes from his inability to utilize the experience he gets outside while on the other hand he is unable to apply in daily life what he is learning in school. That is the isolation of the school--its isolation from life."*
Lesson Plan Name
Grades
Kids with Cameras make a difference
1 to 4
1-4th grade students create a photography exhibit titled "Sense of Place" about their community and then use the exhibit to collect donations to support international Kids with cameras programs.
Electricity - how it works and how we measure and pay for it!
6 to 12
What is electricity, and where can we see it in our daily lives. This lesson is primarily informational, providing an easy-to-understand description of electricity and how it is literally all around us.
High School Energy Audit
9 to 12
You will take scientific measurements, question school staff, and obtain various kinds of information related to how your school uses energy. As you finish each investigation, you will write a scientific report with graphs and recommendations and present it to school officials.
Digital Bubble Maps - Geography of our Environment
P-K to 6
Each environment is different depending on where we live. This lesson is to visually capture the geographical environment a student is apart of.
Fit or Fat?
6 to 8
Students will be involved in a Science and Health lessons that involve nutrition and exercise. They will create Healthy Snacks and exercise profiles for the class.
Title: Digital Photo Storytelling on Five Senses, a project based learning activity by Mary Gore
P-K to 2
Learning about the five senses is a very exciting and fun experience that students in the primary grades are eager to engage in as well as share with others, in and out of the classroom. Through digital photo storytelling project learners are able to document their experiences and take on various roles as they create a presentation project.This is a project based learning activity.
(PART 2) Applied STEM: Rocketry and its Components
6 to 8
See Part 1 for all following sections with the exception of Lesson Plan Description.
(PART 3) Applied STEM: Rocketry and its Components
6 to 8
See Part 1 for following sections with the exception of Lesson Plan Description.
(PART 4) Applied STEM: Rocketry and its Components
6 to 8
See Part 1 for the following sections with the exception of Lesson Plan Description.
Movies for Mothers
P-K to 5
Students will use photos, drawings, and videos to create a movie using Tool Factory Movie Maker as a heartwarming gift for their mother on Mother's Day.