Blackmagic Cinema Camera
Item #: BMD-CC | Grades K-12


$1995.00
Blackmagic Cinema Camera - Ideal for Advanced Cinematography Courses and Filmmaking Programs!Blackmagic Cinema Camera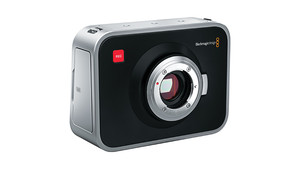 Introducing the world's smallest digital film cameras with an incredibly strong design. Blackmagic Cinema Cameras feature wide dynamic range for shooting true digital film combined with precision EF and MFT mount optics and high quality RAW and ProRes file recording. The built in touchscreen lets you monitor, change settings, display audio and exposure metering and enter metadata directly on the camera!
Shoot Digital Film!Only digital film cameras give you amazing cinematic images
The reason the latest and most amazing television commercials, music videos and feature films look so good is because they've been shot with a digital film camera and then color corrected using DaVinci Resolve. Video cameras, even high end broadcast video cameras, always just look like sharper home movies because they're limited to a regular video sensor. Blackmagic Cinema Cameras are true wide dynamic range digital film cameras designed to shoot with cinematic quality. Imagine adding the style and quality of digital film to your film projects, music videos, documentaries, school performances, sporting events and your school's promotional videos!
Super 35mm Size SensorGet richer colors and a more creative depth of field
If you need higher resolution, global shutter and a more creative depth of field then the Blackmagic Production Camera 4K models feature a large Super 35 size sensor and professional EF lens mounts, so is the perfect choice. You get incredible Ultra HD images with 12 stops of dynamic range for feature film quality shooting. The minimal crop factor lets you shoot with super wide angle lenses so you get images that are big and beautiful, plus have the dynamic range to capture highlight and shadow details far beyond that of any traditional video camera.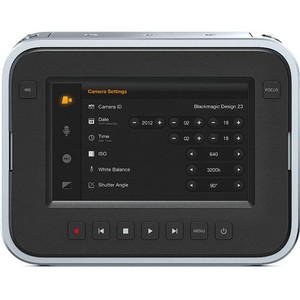 Use EF or MFT LensesNo other camera gives you more choice in lenses
You can choose between models with EF or MFT lens mounts so you can use the world's best and most technically sophisticated lenses. The EF models let you use high resolution Canon™ photographic lenses for amazing quality, while the passive MFT model allows super Olympus Zuiko and Panasonic Lumix Micro Four Third lenses and other Micro 4/3 brands. You also have the flexibility to adapt to other lens mounts.
Wide Dynamic RangeWorking with wide dynamic range is creatively addictive!
Video cameras clip highlights and shadows giving you images that look like video. Some cameras use multiple exposures or "HDR mode" to simulate wide dynamic range but that doesn't work well with motion video where you have movement. Blackmagic Cinema Cameras shoot each frame with wide dynamic range so you get brighter highlights without clipping and rich detail and shadows. The ultra wide dynamic range 2.5K sensor has so much range that you can even shoot indoors with correct exposure and still get full detail through windows outside! This is the secret that allows feature film imagery when color grading with DaVinci Resolve.
Super Small, Super Tough!A true digital film camera, shrunk down to a handheld size
The Blackmagic Cinema Cameras have been precision engineered from machined metal and miniaturized using the latest advanced electronics to deliver a rugged digital film camera that has the strength to be rigged even when supporting a heavy PL mount lens. Unlike most cameras that use plastic, the machined metal design of the Blackmagic Cinema Cameras can be hand held, rigged on cranes, used on Steadycam™ and more. The super small design still includes an SSD recorder capable of recording RAW, touchscreen LCD, internal active cooling for the cinematic sensor and standard SDI, audio and Thunderbolt™ connections.
High ResolutionGet the resolution to allow reframing your shots
With the choice of two high resolution sensors, at 2.5K ultra wide dynamic range or 4K wide dynamic range, you get enough resolution to reframe shots, eliminate bayer loss for full resolution color and to shoot in native Ultra HD. With the latest incredibly large screen TV's available to consumers the demand for Ultra HD content has never been greater. The Blackmagic Production Camera 4K model is the perfect choice for Ultra HD production and you can shoot native RAW to get every single bit of data direct from the sensor or you can shoot in ProRes for high quality video files that are as easy to use as HD files. That means you can shoot in Ultra HD with the same workflow as HD.
Direct Metadata EntryTouchscreen allows metadata entry direct on the camera!
The built in high resolution 5" LCD touchscreen can be used for entering metadata directly into the camera by simply typing on the soft keyboard, so it's as easy to use as any smartphone. Shot number can automatically increment, so you don't have to enter it for each shot! Entering metadata directly into the camera means every time you record the shot information is recorded into the media file so editing software such as DaVinci Resolve 11 or Final Cut Pro X can quickly identify and locate the shot you need when you are in post production saving editing time and eliminating manual logging.
Super Fast SSDMove shots from camera to edit instantly!
Most professional digital film cameras use proprietary media only available from the manufacturer which increases the cost of using the camera. The Blackmagic Cinema Cameras eliminate this "usage tax" by using off the shelf computer solid state disks, or SSDs, so you can buy high performance storage media at much lower cost as well as getting higher speeds and capacity by taking advantage of the latest generation SSDs the moment they are available. SSDs can be mounted on your Mac or Windows machine using adapter cables or a Blackmagic MultiDock and because the speeds are so high you can edit directly off the SSD without time wasting file copying.
Open Standard File FormatsEdit and color correct without converting files!
Blackmagic Cinema Cameras record directly to files that are compatible with all major post applications. That means there's no time wasted converting files before you start editing and color correction in post production. Blackmagic Cinema Cameras record ProRes so are very easy to use and even high resolution 4K ProRes files will play back from laptop computers. When recording RAW, files are still open format and use the open standard CinemaDNG RAW format so you get all the data off the sensor stored in a file that's compatible with many software applications as well as the included DaVinci Resolve editing and color correction software.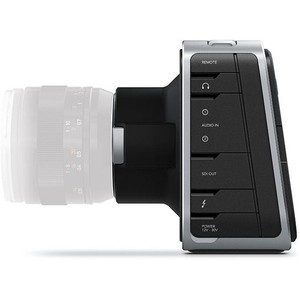 Industry Standard ConnectionsNever get caught out on-set without a custom cable!
When you're on-set the last thing you need is to hold up dozens of very expensive people while you look around for a custom camera cable! The Blackmagic Cinema Cameras use standard connectors so you can simply use regular video, audio and power cables plus you save money because you don't need to purchase custom accessories. You get 3G-SDI or 6G-SDI on the Blackmagic Production Camera 4K model for monitoring, ¼" mic/line audio inputs and a Thunderbolt™ connection for live streaming from the camera and scopes when using the included UltraScope software. When you want external camera and lens control a LANC port is included.
Use Your Favorite Software
The files you record on Blackmagic Cinema Cameras are compatible with virtually every video software tool available on every computer platform available. Simply plug the SSD into your computer and drop the files straight into the software you want to use. Now you can use powerful editing, color correction, visual effects, audio post production tools such as DaVinci Resolve, Final Cut Pro X, Avid Media Composer, Adobe Premiere Pro CC, ProTools, Nuke, Fusion and many more!
What's in the box?
External 12 VAC Power Supply
DaVinci Resolve Software for Mac OS X and Windows
UltraScope waveform monitoring software
Media Express Software
Detachable Sun Shield
Carry Strap
Turret Dust Cap
Limited 1-Year Warranty
Minimum system requirements: Summary

Screen Type

LCD

Screen Size

2"

Max Video Resolution

1080p

Digital Still Megapixel

16MP

Recording Format

MP4 (H.264) - Videos

Color

Black

Features

Internet Upload Button

Yes (for Windows® based systems)

Physical Description

Width

2.2"

Height

4.3"

Depth

0.7"



Main Specifications

Image Sensor

5MP BSI CMOS Sensor

Digital Zoom

16X

On Board Memory

128MB Nand Flash Memory

Expansion

Up to 64GB SD/SDHC/SDXC

Still Picture Resolution Options

16MP (4608 x 3456), 3MP (2048 x 1536), 5MP (2592 x 1944)

Video Resolution Options

HD (720p/60fps), VGA (640x480/30fps), HD (1280x720p/30fps), FHD (1920x1080p/30fps)

Exposure

Auto

White Balance

Daylight, Auto, Fluorescent, Tungsten

Scene Mode

Auto, Backlight, Night, Skin

Filter Mode

Classic (Sepia), Negative, Black & White, Auto

Self-timer

Approx. 10 sec.

Light

On, Off, Digital Light

Video Stabilization

Digital image stabilization

File Format (video)

MP4

Power Saving Mode

Auto off after approx. 3 Minutes

Battery Video Recording Time

Approx. 1h40

Photos Taken Vs. Capacity (1GB SD)

1GB SD: 16 megapixel (interpolated) = 224 photos, 3 megapixel = 1113 photos, 5 megapixel = 699 photos

System Requirements [PC]

512MB RAM, 1GB free hard disk space, Intel Pentium 4, 2.4GHz above, Microsoft® Windows XP / Vista® / Windows® 7, 4X CD-ROM, available USB 2.0 port

System Requirement [Mac]

DVD-Rom, Mac OS 10.5 or above, 1GB RAM, USB 2.0 Port, 1GB free hard disk space, Intel® Core™ 2 or above

Box Content

Camileo Uploader (software for Windows® based systems), Hand strap, Li-Ion rechargable battery, Quick Start Guide, Software CD (User's Manual, warranty information, ArcSoft video and photo editing software), USB cable, cleaning cloth

Approximate Video Recording Capacity - MPEG4

1GB SD: FHD (1080p) = 14 min, HD (720/60fps) = 16 min, HD (720p/30fps) = 26 min, VGA (480/30fps) = 70 min

Warranty

one year standard limited

Lesson Plan Name
Grades
Bollywood, Philadelphia
9 to 12
Students will create a Bollywood-type musical using digital media.
Fit or Fat?
6 to 8
Students will be involved in a Science and Health lessons that involve nutrition and exercise. They will create Healthy Snacks and exercise profiles for the class.
Exploring our World through Video
2 to 4
I want to allow students to use video to express their lives and the area in which they live. I also would like for them to learn how to use a camera, import video and create great projects using that video.
Title: Digital Photo Storytelling on Five Senses, a project based learning activity by Mary Gore
P-K to 2
Learning about the five senses is a very exciting and fun experience that students in the primary grades are eager to engage in as well as share with others, in and out of the classroom. Through digital photo storytelling project learners are able to document their experiences and take on various roles as they create a presentation project.This is a project based learning activity.
Movies for Motivation: Encouraging Literacy Through Student-Created Films
9 to 12
Struggling readers enrolled in a Targeted Reading class will use Tool Factory Movie Maker to create videos advertising their favorite books. These videos will then be shown to the entire school as part of a school-wide literacy encouragement effort.
30 Ways In 30 days
5 to 6
Learners are challenged with the essential question, "How can I make a significant difference in the world in just 30 days?" To highlight their experience, the learners must keep a log book, create a documentary, and publish an original book.
(PART 2) Applied STEM: Rocketry and its Components
6 to 8
See Part 1 for all following sections with the exception of Lesson Plan Description.
(PART 3) Applied STEM: Rocketry and its Components
6 to 8
See Part 1 for following sections with the exception of Lesson Plan Description.
(PART 4) Applied STEM: Rocketry and its Components
6 to 8
See Part 1 for the following sections with the exception of Lesson Plan Description.
Movies for Mothers
P-K to 5
Students will use photos, drawings, and videos to create a movie using Tool Factory Movie Maker as a heartwarming gift for their mother on Mother's Day.