HoverCam Pilot 3 Wireless Digital Podium (Refurbished)
Item #: HCP3R | Grades K-12


$2199.00
HoverCam Pilot 3 Overview
Named InfoComm's Best New K-12 Product, the HoverCam Pilot is the world's first fully-integrated wireless digital teaching station.
Factory Certified Refurbished Units
- We have a limited supply of factory refurbished Pilot 3s that are $1,000 below the list price. These units include a full one year warranty on parts and labor.
The Pilot 3 combines the most important elements used in the classroom: computer, document camera and touchscreen - with wireless HD mirroring functionality. Teach facing the students anywhere in the classroom.
The mobile and sturdy HoverCam Pilot integrates a powerful Windows PC, 21" touchscreen, 13MP document camera and wireless transceiver. It instantly beams the computer screen and touch annotations directly to any Interactive flat panel, projector or TV.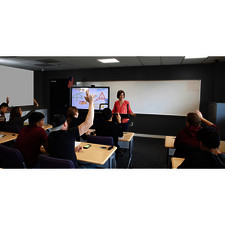 Overview VideoKey Features
21" 10-point multi-touch screen running Windows* all powered by an Intel i5 Core Processor
Seamlessly work with any interactive flat panel
Integrated features like a high performance 13 megapixel USB 3.0 document camera for crystal clear presentations
Multiple ports allow you to connect to a PC or Mac computer; or mobile devices like the iPad, to showcase content from multiple sources
Front-facing technology allows for full classroom engagement and better learning
Display 1080P HD Video flawlessly without WiFi access
Multipoint touch wirelessly synchronized between the Pilot and any IFPD
Stunning 4K clarity
60fps no lag video
Annotate over live video
Zoom without losing resolution
1-year standard warranty
All of your presentation materials come to life!
With the world's best document camera technology built in, all of your presentation materials come to life.
Stunning 4K clarity
60fps no lag videoAnnotate over live videoZoom without losing resolution
Connect your PC, Mac, iPad, tablet, mobile device, or any external drive
The HCP3 Pilot 3 digital podium provides multiple ports which allow you to connect to a PC or Mac computer; or mobile devices like the iPad, to showcase content from multiple sources. Then annotate, record, or take snapshots from the podium!.
Setup is a breeze and maintenance is easy
No wires to mess with
No drivers to install
No new apps to download
All essential hardware and software come prepackaged and ready to go
Manage all Pilot podiums from a central console
Components are upgradable and easily replaceable
Highly integrated configuration requires little repair work or maintenance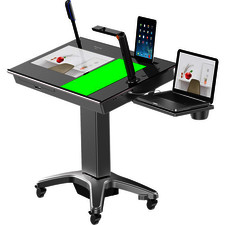 Archive and Organize
FlexVIEW gives you the convenience of a full-featured archive manager. Instantly know where your images and videos are stored. Effortlessly search, tag, group, stack, combine and collate files. Create multiple paged PDF or TIFF files or create various folders to keep class documents and student files organized.
*Microsoft Windows 10 licensing not included.
Shipping
This is a large item. A loading dock is recommended for delivery. Please allow 2 weeks minumum delivery time.
Minimum system requirements: Specifications

HoverCam HCP3 Pilot 3 Specs

Display: 21" LCD with 10-point multi-touch

Resolution: 1920 x 1080 HD

Processor: Intel Core i5

Memory: 8

Hard Drive: 500 GB HDD

Display Adapters: Intel HD Graphics 4600

Network: 1 x RJ45, 10/100/1000 Mb

Wireless Network Interface: Wi-Fi module, supports 801.11 B/G/N

Bluetooth: 4.0

Operating System: Microsoft Windows 10 64-bit (license not included)

Connectors: 2 x HDMI input

1 x HDMI output:

1 x iOS Apple Lightening connector

2 x USB 3.0 type-A

1 x 1/8" / 3.5mm microphone input

1 x 1/8" / 3.5mm aux/headphone/line output

Built-In Speakers: 2 x 3 W

Wireless Connectivity HoverCast Wireless HDMI transmitter: 1 x built-in (60 GHz)

HoverCast Wireless HDMI receiver: 1 x clamps onto CenterStage IFP

HoverCast Connectivity: 1 x HDMI output, 1 x USB touch, power input

Camera: Sensor: 13 MP BSI CMOS

Image Resolution: 4224 x 3156 (13 MP)

Frame Rate: 4K at 30 fps, 1080p at 60 fps, 720p at 120 fps

Camera Lens: High-precision 5-element lens, f2.0

Camera Zoom: Total 480x zoom (6x ASR zoom, 8x digital, 10x mechanical)

Scan Size: A3, A4, 11 x 17", US letter, and legal

Viewing Area: 13 x 21" / 33.0 x 53.3 cm

Microphone: Built-in with noise reduction

Illumination: 4 x Ultra-bright LEDs

Software: Flex 11: Document camera software for lesson recording, video display, and snapshots

KnoteSter: Desktop annotation, whiteboarding, and lesson recording

HDMI Viewer: Wired device mirroring and annotation via HDMI or Lightning port

Reflector 2: Wireless device mirroring

Control Panel: Power On/Off, input source selection, podium height adjustment up/down

Height Adjustment: 20 to 40" / 50.8 to 101.6 cm

Certifications: FCC, CE, RoHS

Color: Black

Power Supply: 100 to 240 VAC, 50/60 Hz

Dimensions: 36 x 20 x 37" / 91.4 x 50.8 x 94.0 cm

Weight: 75 lb / 34 kg