Hyundai Mini PC
Item #: HMP4G | Grades 4-12


$169.00




Status: ETA July 1
ECF Program Qualified Chromebook
- We can provide you with custom quotes on a wide range of chromebooks, tablets, laptops and other qualified mobile equipment for your Emergency Connectivity Fund (ECF) grant application. Contact us at
[email protected]
or call 877 344-7758 for quotes and ECF assistance. We have helpful ECF resources and webinar videos on our
homepage
.
Hyundai's new Mini PC is an affordable alternative to desktops Super Compact and Powerful
- At around the size of a 5x7" picture frame this Mini PC has the power of a desktop tower. Intel's processing architecture along with Windows 10 Pro makes this super small computer powerful enough to handle all your school work and more. It's Wi-Fi enabled and supports dual monitor setups. With a VESA mount, the Mini PC can be mounted on the back of a monitor.
Loads of Connections
- The Hyundia Mini PC is packed with ports!
2 USB 2.0 Type-A
2 USB 3.0 Type-A
1 USB Type-C
1 HDMI 2.0
1 VGA
1 Giga LAN (RJ45)
1 Audio Jack
1DC-IN Jack
About Hyundai's Mini PC
The Hyundai Mini PC is fan-less, ultra-portable, power-efficient and produces zero noise. It enables a more robust option with no moving components while maintaining a compact design and a wide range of I/O connectivity. Itís a silent solution for 2020 edge computing; an ideal device for everyday computing needs, It's perfect for multitasking, home teaching and learning, home theaters, office work, digital security and surveillance, digital signage, media centers, conference rooms, and more.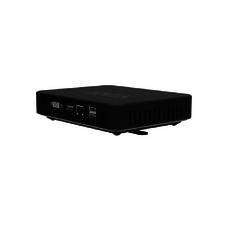 Features
Intel Gemini Lake N4000 (Up to 2.6GHz)
UHD Graphics 600 (Gemini Lake)
Pre-installed with Windows 10 Professional
Passively cooled for silent performance
Built-in 4GB DDR4 / 64GB eMMC Storage
4K @60Hz using HDMI
An additional VGA port for Dual Monitor Setup
microSD slot / USB Type-C
Dual-Band Wi-Fi
VESA Mount Included
1 year manufacturer's warranty included
Minimum system requirements: Processor

Processor Manufacturer: Intel

Processor Type: Celeron

Processor Model: N4000

Memory

Standard Memory: 4 GB

Memory Technology: DDR4 SDRAM

Storage

Flash Memory Capacity: 64 GB

Software

Operating System Platform: Windows

Operating System: Windows 10 Pro

Physical Characteristics

Form Factor: Mini PC

Miscellaneous

Package Contents:

Desktop Computer

Vesa Mount

Warranty

Limited Warranty: 1 Year

Lesson Plan Name
Grades
Dream Vacation
6 to 6
In this project, students will create an itinerary, budget, route, and poster based on their choices about their Dream Vacation. Students will be given restrictions such as a $20,000 budget, must include a family of 4, must travel for at least 5 days, and must be outside of Pennsylvania and the surrounding states.
Students Are the Best Teachers
4 to 12
Students will take an active role in the teaching and learning process by creating digital presentations that review basic concepts that are the foundations for all courses. These may include focused mini lessons on such areas as vocabulary, grammar, figures of speech, math problems and concepts, historical events, scientific elements, or technology operations.
Boomwhacker Compositions
6 to 8
Students will create short compositions using the Chrome Music Lab software Song Maker. They will then play each composition in class as a group using boomwhackers.
Personal/ Global tutoring
P-K to 12
In the wake of the pandemic, Pompano Beach High National Honor Society developed a personalized tutoring service to assist all students in need with online help from an NHS student in any subject. Students created a website with recordings in AP course assistance as well as a library of children's books recorded by high school students for elementary students.
Sound Design
6 to 8
Students will be able to manipulate soundtracks and sound effects into a soundscape that supports our theatrical productions.
GoPro MakerStory
3 to 6
Students will share their MakerSpace exploration process using GoPro video. Students will plan out their basic scenario with the MakerSpace tools, wear the camera, and discuss the process while working with the tools. They will view their video and edit for public viewing on the school YouTube page.
Analyzing Fiction Text with Nearpod
9 to 12
Students will complete a Nearpod interactive lesson with a partner in live time in class. Students will mark text with colors coordinating to specific criteria, as well as make predictions of what will happen in the story.
Introduction to Programming the Recon Rover 6.0
2 to 3
This lesson will demonstrate to the students how to begin programming the Recon Rover 6.0 from SMART Lab as well as introduce them to the online program code.org as they begin to explore coding in the classroom
Template for Google Classroom Reading Log
P-K to P-K
Using google classroom the kids can log their reading minutes and it easily records them and keeps track.
Template for Google Classroom Reading Log
P-K to P-K
Using google classroom the kids can log their reading minutes and it easily records them and keeps track.