Cubelets SIX Kit Robot Blocks
Item #: MR-C6 | Grades K-12


$159.95




Status: Free shipping!
Cubelets are a fast and easy way to inspire kids to become better thinkers.
Cubelets are robot blocks that combine to build thousands of thought-provoking robots. They're a fast and easy way to inspire kids, as young as four years.
Initiate, Imagine, Inspire.
Inspire a love of learning through play. Cubelets are robot blocks that make it fast and easy to engage children as young as four in learning by building robots. There's no wrong way to build with Cubelets, so it is remarkably easy to transform these blocks into brilliant bundles of robotic curiosity.
Making with Magnets.
You don't need to know how to code or wire to construct robots with Cubelets. Snap the robot blocks together and the magnetic faces do the rest. Every unique arrangement is a new robot with novel behaviors emerging from the construction. Invention made easy.
While you don't need to know how to code to play, you can code Cubelets to exhibit new behaviors using C and a Bluetooth Cubelet (sold separately).
Building with Bricks.
Builders rejoice! Cubelets Brick Adapters let you pair with Lego® and other brick-based constructions to add new levels of detail and artistry to your robots. Brick Adapters come in two different styles, "studs" and "sockets" so you can build in any direction.
Branch Out With Bluetooth.
Ready to take your robots to the next level? Add a Bluetooth Cubelet (sold separately) to your construction to create responsive remote control robots or reprogram Cubelets to exhibit new behaviors.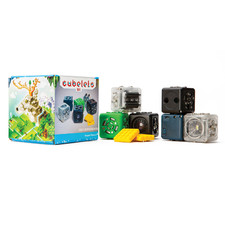 Features of the SIX Kit -
A Parents' Choice Silver Honor Award Winner
Cubelets SIX is the perfect tool to explore robotics. Cubelets are a groundbreaking robot construction system designed for budding innovators ages four and up. Cubelets were designed to teach the big lessons behind complex systems, design thinking, and emergence with tiny robots.
Cubelets SIX comes complete with everything inventors young and old need to start building robots. The included Brick Adapters connect to your favorite brick-based construction systems bringing vivid motion and life to the toys you already own.
Using the included Cubelets, you can build and play with over 500 robots. The advanced technology inside Cubelets makes robot construction remarkably simple and fast. In fact, there's no wrong way to build a robot because Cubelets automatically route power and data where needed, freeing you to invent with creative abandon!
What you'll receive
1 Drive Cubelet
1 Flashlight Cubelet
1 Brightness Cubelet
1 Passive Cubelet/li>
1 Distance Cubelet/li>
1 Battery Cubelet
Unlimited access to lesson plans and activities on modrobotics.com
1 year warranty
Announcing Cubelets OS 4
Modular Robotics has released a new operating system for Cubelets called OS 4. It changes the way Cubelets communicate with each other and with connected devices. Cubelets OS 4 enables Cubelets to do everything they did now, only better!
OS 4 Compatibility
OS 4 Cubelets run a faster and more efficient operating system that isn't compatible with earlier Cubelets operating systems. If you have a mixed collection of OS 4 and non-OS 4 Cubelets, you can tell the difference between the two by comparing the flashing LEDs on each Cubelet. OS 4 Cubelets flash their LEDs more frequently.
Free Lesson Plans
Cubelets are hands-on STEM tools built for students 4 and up. Engaging for elementary and high schoolers alike! Cubelets are a great tool for science, math, literacy, robotics, coding, engineering and life science activities.
www.modrobotics.com/education/#lesson-plans
40+ Hours of FREE Curricula
The best part of using Cubelets for education is the FREE curricula. Modular Robotics provides a growing spectrum of fully developed lesson plans and activities for teachers of all types. Developed in conjunction with educators in the field, these classes have been tested and optimized to impart critical STEM lessons.
Join in the Forum
with other teachers to explore the many uses of Cubelets and help each other here: https://www.modrobotics.com/forum/
About Modular Robotics
Modular Robotics is home to humans who design, engineer, and manufacture tiny robots. Every day we work to build robot construction systems for kids because we believe that toys shape the way children think about the world. Our goal is to create remarkably fun play experiences that impart intuitive understanding of complex systems and design thinking. Our team is comprised of engineers, software developers, production specialists and operations. -
Modular Robotics Team
Minimum system requirements: Supported OS(s) and Devices

iOS 7.1 or newer

iPad 3 or newer,

iPad Air,

iPad Mini

iOS 8.1 or newer (Go app only)

iPhone 5, 5c, 5s, 6, 6+,

iPod Touch 5

Android 4.4 (KitKat) or newer

Nexus 7 (2013 / 2nd generation),

Nexus 9,

Galaxy Note 10.1 or newer,

Galaxy Note Pro 12.2,

Galaxy Tab 3 8.0, 10.1,

Galaxy Tab 4 7.0, 8.0, 10.1

Galaxy Tab Pro 8.4,

Galaxy Tab S 8.4, 10.5

Nabi 2S

Nabi DreamTab

Galaxy S4, S5 (Go app only)

Lesson Plan Name
Grades
Kids with Cameras make a difference
1 to 4
1-4th grade students create a photography exhibit titled "Sense of Place" about their community and then use the exhibit to collect donations to support international Kids with cameras programs.
Electricity - how it works and how we measure and pay for it!
6 to 12
What is electricity, and where can we see it in our daily lives. This lesson is primarily informational, providing an easy-to-understand description of electricity and how it is literally all around us.
High School Energy Audit
9 to 12
You will take scientific measurements, question school staff, and obtain various kinds of information related to how your school uses energy. As you finish each investigation, you will write a scientific report with graphs and recommendations and present it to school officials.
Digital Bubble Maps - Geography of our Environment
P-K to 6
Each environment is different depending on where we live. This lesson is to visually capture the geographical environment a student is apart of.
Fit or Fat?
6 to 8
Students will be involved in a Science and Health lessons that involve nutrition and exercise. They will create Healthy Snacks and exercise profiles for the class.
Title: Digital Photo Storytelling on Five Senses, a project based learning activity by Mary Gore
P-K to 2
Learning about the five senses is a very exciting and fun experience that students in the primary grades are eager to engage in as well as share with others, in and out of the classroom. Through digital photo storytelling project learners are able to document their experiences and take on various roles as they create a presentation project.This is a project based learning activity.
(PART 2) Applied STEM: Rocketry and its Components
6 to 8
See Part 1 for all following sections with the exception of Lesson Plan Description.
(PART 3) Applied STEM: Rocketry and its Components
6 to 8
See Part 1 for following sections with the exception of Lesson Plan Description.
(PART 4) Applied STEM: Rocketry and its Components
6 to 8
See Part 1 for the following sections with the exception of Lesson Plan Description.
Movies for Mothers
P-K to 5
Students will use photos, drawings, and videos to create a movie using Tool Factory Movie Maker as a heartwarming gift for their mother on Mother's Day.
Accessories

$39.95

$59.95