Cubelets Discovery Set
Item #: MR-DS | Grades K-12


$139.95




Status: Free shipping!
Discovery Set
- Better thinking through play.
The Cubelets Discovery Set is the perfect introduction to the world of Cubelets® robot blocks. Open a box of little robots that will intrigue, fascinate, and inspire builders for hours on end. A unique blend of hardware and software, Cubelets make it easier than ever to explore robotics, coding, and other big ideas.
Create
Little robots for building big imaginations. Cubelets robot blocks make it easy for builders of nearly any age to imagine, craft, and invent countless robot constructions.
Make
Just like building blocks, only smarter. Cubelets are little blocks of software inside little blocks of hardware. Each Cubelet has a special function, so how you assemble your robot changes its behavior. Every combination is a new creation.
Reinvent
Tactile coding. Cubelets make the principles of programming easy to learn and practice. Cubelets' special combination of software and hardware means that as you build a robot you build a program. It's hands-on coding!
How Cubelets Work
- SENSE, THINK, ACT.
Each Cubelet has a special function and belongs to one of three categories: SENSE Cubelets take in information from the robot's environment. THINK Cubelets compute and change that information, and ACT Cubelets turn that information into a physical action.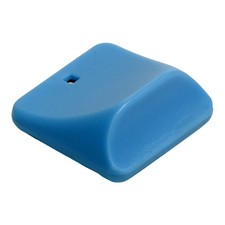 Cubelets' magnetic faces make them simple to snap together and pull apart. Connect at least one SENSE, THINK, and ACT Cubelet to create a robot construction.
The yellow Brick Adapters connect to LEGO® and other brick building- block toys.
App Enhanced Robot Play
- Introducing the Bluetooth® Hat.
The Bluetooth® Hat pairs robot constructions with mobile devices. Simple, proximity-based pairing makes connecting easy. Cap your creations with the Bluetooth® Hat to add new abilities using the free Cubelets app.
Here's what you get in the Discovery Set
One Battery Cubelet to provide the energy needed to power robot constructions.
One Brightness Cubelet to build robot constructions that navigate their world.
One Distance Cubelet to enable a construction to detect and respond to nearby objects.
One Flashlight Cubelet to create constructions that shine a dimmable LED light.
One Bluetooth Hat to Pair robot constructions with free companion apps.
Two Brick Adapters to Add style and expand building capabilities with LEGO® or other brick building toys.
A printed Discovery Guide and downloadable Parents' Play Guide.
One Micro-USB Charging Cable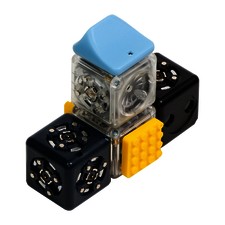 Recommended Ages.
Cubelets are recommended for builders ages 4 and up. Cubelets are intuitive enough for preschoolers to start building robots, but they scale in complexity, teaching new skills as kids grow. Cubelets are even loved and used in university computer science programs!
Battery Info
The key to every Cubelets construction is the Battery Cubelet. A fully charged Battery Cubelet can power up to 6 hours of playtime. Recharge the Battery using the included Micro-USB cable. When fully charged, the amber light on the Battery Cubelet will turn off.
Warranty Info
All Cubelets come with a one-year warranty from date of purchase*. This warranty covers unfortunate accidents — for instance, if your little robots end up in the bottom of the aquarium — and general hardware or software malfunction. If you are having an issue with your Cubelets, please visit our help page.
Great Educational Resources and Support!
You'll find tons of helpful resources with using Cubelets in your classroom at
www.modrobotics.com
. Download free lesson plans, watch videos, join a forum, contact a support specialist or sign up for a workshop. You can even join the
Educators Hub.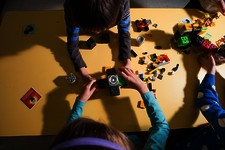 Minimum system requirements: Supported OS(s) and Devices

iOS 7.1 or newer

iPad 3 or newer,

iPad Air,

iPad Mini

iOS 8.1 or newer (Go app only)

iPhone 5, 5c, 5s, 6, 6+,

iPod Touch 5

Android 4.4 (KitKat) or newer

Nexus 7 (2013 / 2nd generation),

Nexus 9,

Galaxy Note 10.1 or newer,

Galaxy Note Pro 12.2,

Galaxy Tab 3 8.0, 10.1,

Galaxy Tab 4 7.0, 8.0, 10.1

Galaxy Tab Pro 8.4,

Galaxy Tab S 8.4, 10.5

Nabi 2S

Nabi DreamTab

Galaxy S4, S5 (Go app only)

Lesson Plan Name
Grades
Kids with Cameras make a difference
1 to 4
1-4th grade students create a photography exhibit titled "Sense of Place" about their community and then use the exhibit to collect donations to support international Kids with cameras programs.
Electricity - how it works and how we measure and pay for it!
6 to 12
What is electricity, and where can we see it in our daily lives. This lesson is primarily informational, providing an easy-to-understand description of electricity and how it is literally all around us.
High School Energy Audit
9 to 12
You will take scientific measurements, question school staff, and obtain various kinds of information related to how your school uses energy. As you finish each investigation, you will write a scientific report with graphs and recommendations and present it to school officials.
Digital Bubble Maps - Geography of our Environment
P-K to 6
Each environment is different depending on where we live. This lesson is to visually capture the geographical environment a student is apart of.
Fit or Fat?
6 to 8
Students will be involved in a Science and Health lessons that involve nutrition and exercise. They will create Healthy Snacks and exercise profiles for the class.
Title: Digital Photo Storytelling on Five Senses, a project based learning activity by Mary Gore
P-K to 2
Learning about the five senses is a very exciting and fun experience that students in the primary grades are eager to engage in as well as share with others, in and out of the classroom. Through digital photo storytelling project learners are able to document their experiences and take on various roles as they create a presentation project.This is a project based learning activity.
(PART 2) Applied STEM: Rocketry and its Components
6 to 8
See Part 1 for all following sections with the exception of Lesson Plan Description.
(PART 3) Applied STEM: Rocketry and its Components
6 to 8
See Part 1 for following sections with the exception of Lesson Plan Description.
(PART 4) Applied STEM: Rocketry and its Components
6 to 8
See Part 1 for the following sections with the exception of Lesson Plan Description.
Movies for Mothers
P-K to 5
Students will use photos, drawings, and videos to create a movie using Tool Factory Movie Maker as a heartwarming gift for their mother on Mother's Day.
Accessories

$39.95

$59.95