Classroom Set of iPads (Grade C) with Secure Charging Cart
Item #: iPad-CC | Grades K-12


Status: backordered 3-4 weeks
Get a set of iPads and a charging cart for your classroom this school year!
Starting at only
$1649
, you can outfit your classroom with 12 reconditioned iPad 2s (Grade C), power supplies and a 36 capacity iPad charging cart. We have options for 12, 24 and 36 iPads (use the drop down menu above) or you can customize your own. Email or call us for a custom classroom set.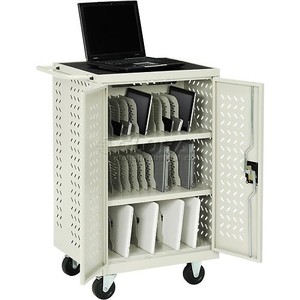 About the iPads
They are tested and fully functional. They may show signs of wear or have etchings on the chassis, but can be covered and protected by a case (sold separately). A 30 day warranty and shipping is included!
Apple iPad 2 Features:
Storage: 16 GB min
Display: 9.7-inch (diagonal) LED widescreen Multi-Touch display
Connectivity: Wi-Fi (802.11a/b/g/n) and Bluetooth 2.1
Cameras: Front and Rear 5-Megapixel cameras
Battery: Up to 10 hours of battery life
About the iPad Charging Cart
This iPad cart securely stores, transports And charges up To 36 iPads!
Mobile tablet charging cart includes storage shelves that accept iPads. Made with all steel construction, this storage cart has a wide, non-skid top surface for supplies and equipment. Doors and panels are perforated to allow ventilation that helps prevent overheating. Doors are channel reinforced for extra strength and feature 3-point locking for security. iPad security charging cart includes UL listed 36-outlet 15 amp electrical assembly with a 6' power cord. Rolls easily on 4" rubber casters (2 swivel with brakes, 2 rigid). Easy assembly.
Note: The iPad Tablet Compartment usable Width = 1.60", and each Divider is 7"L x 5-3/4"H.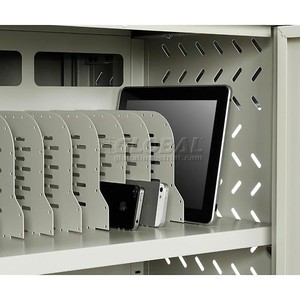 The cart has a one year warranty.
Lesson Plan Name
Grades
Social Issues
10 to 12
Students work in groups to identify and create a video presentation of a social issue facing America. Students must conduct interviews and research on a topic and create a documentary of the issue and a conclusion.
Producing a Franchise to encourage global awareness, increased, informed decision making about health, peer relationships and education.
7 to 8
The students will determine categories of franchises from which to work out media productions for weekly broadcasts on our school news show.
Tree Trekkers
4 to 5
Students will photograph, identify, classify and write about trees in their school yard, the immediate neighborhood and in their own neighborhood. The will publish a booklet and/or a slide show about their trees.
Nuclear Scientists Project
7 to 12
Students will study the history of the Atomic Age. They will be talking about many chemists and physicists who added information to the atom model we use now and the development of the atomic bomb.
How Does Your Garden Grow?
K to 4
With the help of technology the children will be amazed witnessing the school garden change before their eyes! The work and dedication put into a garden will surely pay off when the digital presentation is viewed.
Schoolyard Jungle: What's Out There?
7 to 7
In the Schoolyard Jungle: What's Out There? project, students from Oberon Middle School will visit the school's outdoor classroom to photograph plants using OLYMPUS DIGITAL CAMERAS. After identifying and researching the natural history of their collected plants, they will use TOOL FACTORY SOFTWARE to create user friendly plant field guides and to build an Oberon Middle School Outdoor Classroom website and plant database that will continue to be utilized and updated by students in future years.
Classroom Booklet Adapted from Brown Bear, Brown Bear, What Do You See
K to K
Students will make pictures of animals using different colors as in the book mentioned. When they are finished, a photo will be taken of them and their picture.
Digital Storytelling
5 to 12
Students write more when they are inspired either by the topic or by the process. Using Movie Maker, students bring their creative stories to life and have a Windows Media Player as their final version of their work.
Learn and Serve Video
10 to 12
Students in my Multimedia class create a video on any topic related to the K-12 curriculum. They partner with a teacher in that subject / grade for ideas and then they script, video, edit, and publish a video that teaches the topic.
Poetry Alive! Interpreting Poetry Using Digital Images
9 to 12
A team of English students will take the role of a production company and will create a 4-5 minute film using the digital image as a medium for interpreting students' original poems. Three classes will be working together in order to complete this project: Creative Writing, English, and The Actor's Studio.