2 Tablets, 2 Cards - Only $222!
Item #: 49106 | Grades 3-12


$222.00


Status: Shipping included!
This is a great starter bundle for using tablets in the clasroom! Get two 32 GB 8" Android 4.4 tablets with loads of features. We're also including two 16 GB micro SD cards to amp up the storage! Shipping is included.
The Acer Iconia One 8 is light and easy to tote around. With neat features that create a bright and clear screen, speedy and responsive use, and great HD media playback, you get hours of learning and fun in a slim package.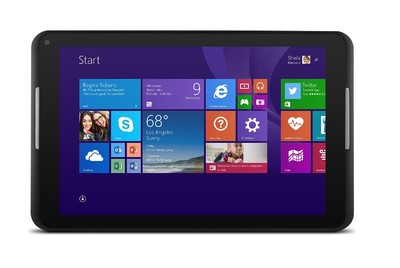 Featuresmicro USB
Transfer files easily between devices and connect to peripherals like keyboards, mice and external drives.
Zero Air Gap
Enjoy enhanced screen clarity even in sunlight, so you can enjoy content anywhere you go.
Quad core CPU
Devices powered by quad-core CPUs will simultaneously run fast, preserve battery life, and make games look better.
IPS (In-plane switching)
Colors stay true no matter what angle you're viewing from. Share what's on your screen with friends and family.
Anti-fingerprint
The coating on this device's screen makes it harder to smudge and easier to clean the screen.
8" LED-backlit active-matrix TFT-LCD multitouch display
With IPS (in-plane switching) technology, a 16:10 aspect ratio and 1280 x 800 (WXGA) resolution makes navigation simple and presents media in rich detail.
Android 4.4 KitKat operating system
Allows you to stay connected and productive. Connect to Google Play to find thousands of educational apps
32GB storage capacity
Offers room to house important files.
Quad-core processor
Intel® Atom™ Z3735G processor with a 2MB cache, 1.33GHz processor speed with Burst up to 1.83GHz and 1GB DDR3L SDRAM for efficient performance.
Wi-Fi (802.11b/g/n)
Allows you to connect to the Internet while within range of an available wireless network.
Bluetooth 4.0 interface
Enables simple wireless pairing with select devices.
0.3MP front-facing camera
Lets you capture special moments to share with loved ones. A microphone allows crisp, clear sound capture.
Card slot
Accepts microSD and microSDHC cards (not included) for easy expansion.
Accelerometer
Enables versatile use.
A 16 GB Micro SD Memory Card is included for each tablet!
Minimum system requirements: Specifications

Key Specs

Display TypeOther

Screen Size8 inches

Touch Screen Yes

Operating System Android 4.4 KitKat

Internet ConnectivityWi-Fi

Processor BrandIntel

Processor Model Intel Atom

Processor Speed 1.33 gigahertz

Screen Resolution 1280 x 800

Storage Capacity 32 gigabytes

Warranty

Parts1 year

Labor1 year

Included

Additional Accessories Included1-cell lithium-polymer battery, AC adapter

Included SoftwareNot Applicable

Embedded Mobile BroadbandNone

Headphone JackYes

Connectivity

Number Of USB Port(s)1

Bluetooth Enabled Yes

HDMI Output(s)No

Certifications & Listings

ENERGY STAR Certified No

Compatibility

Expandable Memory CompatibilitymicroSD

Feature

Internal Memory32 gigabytes

Video Recording CapabilityNo

Wi-Fi EnabledYes

Wireless DisplayNo

GPS EnabledYes

Camera

Front-Facing CameraYes

Front Facing Camera Megapixels0.3 megapixels

Performance

Processor Number Of Cores4

System Memory (RAM) 1 gigabytes

Type of Memory (RAM)DDR3L SDRAM

General

Battery TypeLithium-polymer

ColorSlate

Color CategoryGray

Model NumberB18101193

Dimension

Height0.3 inches

Width5.1 inches

Depth8.5 inches

Weight11.99 ounces

While these are certainly inferior quality to an ipad or Nexus 7, I have had no problems with the 18 that I ordered for my class. We've been able to load all of the apps that we need and have loaded content onto the SD card for the students to use. The battery life seems sufficient, as well. For classroom use, they are perfect!