8" Windows 8.1 Tablet Classroom Mobile Lab
Item #: 49108 | Grades K-12
Get tablets for the whole classroom! Use the tablets in your classroom, then pack up the crate and either roll it to the next classroom or out on a class field trip, knowing your investment is safe and secure. Choose from 6, 8, or 10 tablets to match your classroom size.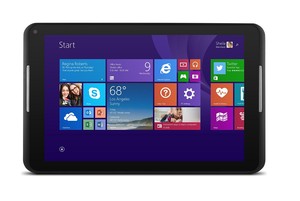 The 8" Windows Tablet Classroom Mobile Lab includes:
8" Windows 8.1 Ematic Tablets
8 GB Micro SDHC Memory Cards
JVC Earbuds
Stylus pens
1 TSA Combination Lock
1 Hardshell, Waterproof, FAA Approved Carry-on Crate
Universal Stylus Pen for Tablets
The touch tip glides smoothly on your tablet to combine comfort and control while you create art, annotate files or capture content. Soft rubber tipped end prevents from scratching your handheld screen.
JVC Xtreme Xplosives Earbuds
XX Series inner-ear headphones are upgraded for 2015 with 11mm Neodymium driver units and Extreme Deep Bass Ports for the ultimate bass sound. They feature a 1-button mic/remote for iPhone/iPod/iPad/BlackBerry/Android. Rubber protectors on the ear buds provide extra durability. Five color selections are offered to fit any personality.
Minimum system requirements: Manufacturer Warranty: 90 days labor, 1yr limited parts

Lesson Plan Name
Grades
Social Issues
10 to 12
Students work in groups to identify and create a video presentation of a social issue facing America. Students must conduct interviews and research on a topic and create a documentary of the issue and a conclusion.
Producing a Franchise to encourage global awareness, increased, informed decision making about health, peer relationships and education.
7 to 8
The students will determine categories of franchises from which to work out media productions for weekly broadcasts on our school news show.
Tree Trekkers
4 to 5
Students will photograph, identify, classify and write about trees in their school yard, the immediate neighborhood and in their own neighborhood. The will publish a booklet and/or a slide show about their trees.
Nuclear Scientists Project
7 to 12
Students will study the history of the Atomic Age. They will be talking about many chemists and physicists who added information to the atom model we use now and the development of the atomic bomb.
How Does Your Garden Grow?
K to 4
With the help of technology the children will be amazed witnessing the school garden change before their eyes! The work and dedication put into a garden will surely pay off when the digital presentation is viewed.
Schoolyard Jungle: What's Out There?
7 to 7
In the Schoolyard Jungle: What's Out There? project, students from Oberon Middle School will visit the school's outdoor classroom to photograph plants using OLYMPUS DIGITAL CAMERAS. After identifying and researching the natural history of their collected plants, they will use TOOL FACTORY SOFTWARE to create user friendly plant field guides and to build an Oberon Middle School Outdoor Classroom website and plant database that will continue to be utilized and updated by students in future years.
Classroom Booklet Adapted from Brown Bear, Brown Bear, What Do You See
K to K
Students will make pictures of animals using different colors as in the book mentioned. When they are finished, a photo will be taken of them and their picture.
Digital Storytelling
5 to 12
Students write more when they are inspired either by the topic or by the process. Using Movie Maker, students bring their creative stories to life and have a Windows Media Player as their final version of their work.
Learn and Serve Video
10 to 12
Students in my Multimedia class create a video on any topic related to the K-12 curriculum. They partner with a teacher in that subject / grade for ideas and then they script, video, edit, and publish a video that teaches the topic.
Poetry Alive! Interpreting Poetry Using Digital Images
9 to 12
A team of English students will take the role of a production company and will create a 4-5 minute film using the digital image as a medium for interpreting students' original poems. Three classes will be working together in order to complete this project: Creative Writing, English, and The Actor's Studio.