Podcasting Bundle - 40% Off!
Item #: 6628 | Grades K-12


$159.00


Status: Holiday Special - 40% off plus free shipping!
Holiday Special - 40% off plus free shipping!
Offer good through January 31, 2015.
This new educators-only podcasting bundle features the Olympus WS-802 4GB digital voice recorder, Tool Factory's Podcasting-V3 software, an Olympus noise reduction microphone, and the "A Simple Guide to Podcasting" and "Adventures in Podcasting" book/cd sets!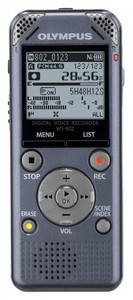 Tool Factory Podcasting with Video
Find your voice with Tool Factory Podcasting with Video! Anyone with a microphone or video camera, a Windows computer, and an internet connection can publish podcasts or vodcasts to people anywhere in the world! The software combines a scripting tool, sound recorder, video recorder, easy uploading, and broadcast utility into one easy interface. You'll never have to write a single line of programming code. Every copy includes a subscription to Clip Art Station for copyright -free music and sound effects, server hosting for 3 months on Web Page Station.
Olympus ME-52W Microphone with Noise Cancellation
This microphone is ideal for recording voice and interviews. The ME-52W plugs directly into your computer or digital voice recorder, for uni-directional recording in high-noise environments. It will cut down on much of the background noise. It comes with windscreen cover, a tie-clip, and 3.3ft extension cord. It's the most versitile mic we've found!


Simple Guide to Podcasting - Book/CD Set
Get the book and get started! This is the perfect companion book to Tool Factory Podcasting. The pages are jam-packed with step-by-step instruction on how to record sounds and publish your own podcasts. Readers can delve into the text for a deeper understanding of the podcasting process, or simply browse the visual images which "show" every step in the process. There's even a chapter on copyright laws and acceptable use policies for podcasting. The included CD has PowerPoint presentations to help you teach and learn about podcasting. This book is a wonderful practical guide to podcasting.
Adventures in Podcasting! Incredible Lesson Plans for Your Classroom - Book/CD Set
Raise your classroom podcasting program to a whole new level with Tool Factory's book, "Adventures in Podcasting: Incredible Lesson Plans for Your Classroom"! The book includes 40 podcast lesson plans designed to stretch students' imagination and get them thinking creatively about the curriculum. Send your students on a podcast adventure deep into the heart of a rainforest, or have them interview prospectors panning for gold out West in the 1800s! A bonus companion CD of editable worksheets lets teachers tailor every activity to their own curriculum. Plus there's a bonus chapter included, from "Tool Factory's Simple Guide to Podcasting".
Lesson Plan Name
Grades
Building Vocabulary with Digital Fotos.
8 to 12
Presents ways that students could use digital cameras to develop Spanish vocabulary.
Exploring My Environment for Speech and Language
K to 5
Student will photograph objects containing their targeted speech sounds and/or items in selected categories. These photographs will be used in a power point slide show for individual drill and copied to establish a "visual library".
A Different Perspective
6 to 12
Teaching wheelchair bound students the joys of photography.
Glad to Meet You, Newfane
2 to 5
This project takes a look at the resources, businesses and services within a community. At each location, the children get an abbreviated look at how that location benefits the community.
Celebration of Cultures
K to 5
In the CELEBRATION OF CULTURES unit, students study one country related to their family heritage and complete multiple assignments to illustrate their understanding of that culture. They also create "family legacy books" in which they put Family Trees, Interviews with relatives and personal "Snapshot" Writings about important incidents and remembrances in their own lives.
Cemetery Restoration Project
K to 8
An old abandoned cemetery is given the opportunity for new "life" through the efforts of its new owners, a Catholic school, and a new parish in the beautiful Frederick Valley near the foot of the Catoctin Mountains.
Trees For Trout!
4 to 4
Classroom project that incorporates forestry and fish to investigate the lifecycle of trout and the effects of forest practices on them.
Virtual Museum of Musical Instruments
4 to 8
Students create and build their own musical instruments based on existing characteristics of the four families of the symphony orchestra. They will take photographs of their completed instruments, record the sounds and post them to an existing web site which showcases student work. They will also create their own web page which will be attached to the teacher web site.
Jobs I Can Do : Electronic Portfolio
12 to 12
This lesson will explain how to use digital photos to create electronic portfolio when working with 19 to 21 year olds with cognitive deficits.
Let's Rock and Roll
K to 5
Photograph rock formations in the area and how the land was formed through erosion, land upheavals, and sediment building.