Classroom Set of Acer C270P Touchscreen Chromebooks with Secure Charging Cart
Item #: CSC04 | Grades K-12
Get a set of Acer C720P Chromebooks and a charging cart for your classroom this school year!
Outfit your classroom with refurbished Acer Chromebooks, power cords and a storage and charging cart. We have options for 12, 24 and 32 Chromebooks or you can customize your own. Email or call us for a custom classroom set.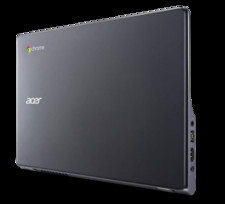 About the Chromebooks
These Acer C720P Chromebooks ($140) feature the Intel Celeron 2955U 1.4GHz processor with 4 GB of onboard memory and 16 GB of storage memory. The screen is 11.6" with LCD display resolution 1366 x 768. They are inspected as Grade B/C-Skin meaning they will show signs of wear, including scratches, etches and other marks. C-Skin units have a new skin wrap on the top of the shell giving them a newer, cleaner look. All are inspected and fully functional.
About the Storage and Charging Cart
These carts securely stores, transports And charges up To 32 Chromebooks or other devices.
Mobile laptop and tablet charging cart includes 8 storage shelves that accept Chromebooks or laptops of any size. Each shelf holds up to 3 laptop computers. Made with all steel construction, this notebook storage cart has a wide, non-skid top surface for supplies and equipment.
Doors and panels are perforated to allow ventilation that helps prevent overheating. Doors are channel reinforced for extra strength and feature 3-point locking for security.
Notebook security charging cart includes 24-outlet 15 amp electrical assembly with a 6' power cord. 3" clearance between shelves. Rolls easily on 5" rubber casters (2 swivel with brakes, 2 rigid).
Easy assembly.
Note: Interior Cabinet Dimensions are 41"L x 19"W x 31.6"H. Interior Shelf Dimensions are 41"L x 16"W.
Allow additional space required for the power adapters, power cords and protruding power plugs from the devices.