GrantStation
Item #: GS001 | Grades K-12


$249.00
Digital Wish and GrantStation are pleased to present a special offer for to help you become a successful grantseeker. Connect to thousands of private, Federal and state grants and other funding opportunities with a specially discounted membership to GrantStation. To help you get to active grants, GrantStation only lists those funders who are giving within the next 12 months.
This subscription is offered to members at 65% off the regular price of $699!.About GrantStation Membership
A GrantStation membership provides online access to a comprehensive set of grant research tools for educators and grant writers. These tools link you to current sources of grant money and teach you how to secure available funding.
GrantStation.com is a one-stop-shop for grantseeking resources. From
Literacy
to
Health Programs
, from
STEM
to
School-To-Work
, from
Curriculum Development
to
Faculty Development
, they list a broad array of funding opportunities for educational programs.
Features of this service include:
Each GrantStation membership lasts one year and gives organizations access to global, national, regional, and local grantmakers — both private and government. You will also receive the
GrantStation Insider
, a weekly e-newsletter with the latest information on new grant programs, upcoming deadlines, online trainings, and more. See a sample newsletter here:
www.grantstation.com/Public/Insider_sample.asp
.
Developed and tested by fundraising professionals, GrantStation information is based on in-depth and ongoing research.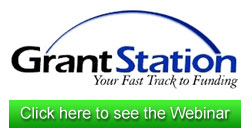 All GrantStation membership benefits are accessible through the Internet. Users do not need to download or install software.
To help determine if a GrantStation membership is the right fit for your organization, please check out our webinar that was presented by GrantStation's Ellen Mowrer on February 28th using the button to the right. The webinar is approximately 12 and a half minutes long and is a great overview of GrantStation and it's services.
Testimonials
Here are some testimonials from a few current GrantStation members:
"I've secured over $1.5 million in grants for Digital Wish and have found that I spend more time looking for grants than writing them. GrantStation is an incredible time-saver for me. The detailed search tools help me target the best grant opportunities for us, so I can focus my time on writing. This is a great time-saving investment for educators and non-profits!"
Heather Chirtea
Founder & Executive Director, Digital Wish
"I have been a GrantStation subscriber for over five years. I find the grant resource information to be comprehensive and easy to use, and I have enjoyed the articles, useful tips and other helpful resources provided. GrantStation is a must have tool for anyone doing grant and fund development. "
Kim Thiel-Schaaf
Director of Operations & Grant Development
Paris Gibson Square Museum of Art
"GrantStation is an effective tool for grantseeking because it is so centrally located. There are so many foundations with money to give to nonprofit groups. Finding them is the hardest part. GrantStation makes the finding process much easier for me."
Jodie Stover
Public Radio Network
See more Testimonials here!
Email Confirmation
Before requesting a membership to GrantStation, make sure your email address is up-to-date in your Digital Wish member profile. Within 10 business days after your request has been approved, GrantStation will email activation information to this address.
Major Capabilities
U.S. Charitable Giving: Members get connected to the top national, regional, and local giving programs. They can perform powerful, targeted searches on thousands of private grantmakers, including foundations, corporate giving programs, religious funders, and associations with grantmaking programs.
GrantStation Insider: GrantStation's weekly bulletin of grantseeking opportunities is delivered right to members' desktops each week. The Insider provides the latest information on upcoming national and regional funding opportunities.
Federal Grants and Loans: Produced exclusively for members and sorted by deadline date, the federal grants and loans section offers detailed program, contact, and application information on an extensive listing of federal grant opportunities. This information is updated twice weekly.
State Grants and Loans: GrantStation links to each grantmaking department in every state, making state funding research easier.
International Charitable Giving: Identify grantmakers based in other countries that support organizations throughout the world.
Write and Learn: Step-by-step tutorials on building grant requests, writing letters of inquiry, and managing grant awards.
Important Information for Schools using GrantStation
Eligible schools may request GrantStation for use by staff or volunteers (FTA/PTO) involved with grantwriting or other administrative purposes only.
Choose Carefully
The administrative fee for this product is not refundable, and the product cannot be exchanged. One subscription product cannot be exchanged for another one that provides more or fewer memberships.
Obtaining This Product
Expect two emails:
When your donation request has been approved, Digital Wish will send a message to your organization email address with fulfillment information about the enrollment.
Within 10 business days, GrantStation will send a welcome message via email with your login information.
Rules, Eligibility and Restrictions
Organizations may request up to 20 of each kind of GrantStation membership during the promotional period. You can also request one of these products to renew a single membership for one or two years, but multiple requests can't be applied to a single membership. If you need more than 20 memberships, you will need to contact GrantStation directly.
Organizations may request an unlimited number of the standard discounted GrantStation memberships outside of the promotional period.
GrantStation memberships offered during the promotion are good for one year of access.
Donated product will be distributed under this program to qualifying organizations only, not to individuals.
This donation is available to US schools and qualified educational institutions that have educators who are Digital Wish members. Eligible schools may request GrantStation for back-office use or other administrative purposes by school educators, staff or volunteers only.
GrantStation products may not be transferred or resold.
Memberships purchased through Digital Wish are considered a singular membership and will be activated for a one year term and are not consecutive with any existing memberships with GrantStation.com. Renewals purchased through Digital Wish will be added onto existing memberships purchased through Digital Wish.
Minimum system requirements: web browser and an internet connection