HoverCam Z5 - USB Document Camera
Item #: HC-Z5 | Grades K-12


$129.00


Status: Free shipping!
Hovercam Z5 - The perfect option for those on a budget
The Z5 is a very capable 5.0 MegaPixel USB camera with speeds of 15 frames/sec at 1080p and 30 frames/sec at 720p resolution. Free Shipping Included!
About the Z5Tall on Performance, Short on Cost
The HoverCam Z5 is an entry level document camera from HoverCam. While it does use the same great Flex10 software you use with the Solo 8 and Ultra 8 HoverCams, it doesnít offer the same performance. This is a camera for people who need the lowest price possible, but still want a camera with a great picture that will work in a classroom.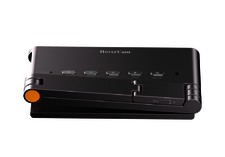 More Than Just a "Camera"
The HoverCam Z5, or just HoverCam Z as we call it, is a great, compact, and very affordable document camera. The camera neck folds down into the base for easy storage. It offers features of much more expensive cameras like an adjustable camera head, LED light with an on/off switch, auto focus, auto focus lock, digital zoom, and the ability to record snapshots and video. The HoverCam Z5 connects to your computer through USB (USB 3.0 cable is included) and it runs through HoverCamís Flex10 software. This gives you the ability to capture images and video, adjust resolution, annotate, and control the camera from your interactive whiteboard.
The Z5 does not have a video out connection so you will always need your computer to use it. If you do need a video output, we recommend the HoverCam Ultra 8.
Hovercam document cameras are compatible with Chrome OS. You can download the app for your Chromebooks
here
.
What's in the box
HoverCam Z5 Document Camera
USB 3.0 cable
Alignment mat
Quick start guide
Minimum system requirements: Specifications

Video Outputs USB Video

Flexible Neck No

Built in microphone Yes

Power Source USB Powered

Lesson Plan Name
Grades
Paint the States - 50 & D.C.
3 to 12
Help the students learn about each state by painting a large scale (or small scale, your choice) of the United States.
Fit or Fat?
6 to 8
Students will be involved in a Science and Health lessons that involve nutrition and exercise. They will create Healthy Snacks and exercise profiles for the class.
Research Project
8 to 8
This lesson gives the a overview of common source types and outlines a research project. I have adapted this in several ways to include book reports, and research projects of any kind.
Movies for Motivation: Encouraging Literacy Through Student-Created Films
9 to 12
Struggling readers enrolled in a Targeted Reading class will use Tool Factory Movie Maker to create videos advertising their favorite books. These videos will then be shown to the entire school as part of a school-wide literacy encouragement effort.
Introduction to Programming the Recon Rover 6.0
2 to 3
This lesson will demonstrate to the students how to begin programming the Recon Rover 6.0 from SMART Lab as well as introduce them to the online program code.org as they begin to explore coding in the classroom
Exploring Tenths
4 to 4
Students will explore the relationship between fractions and decimals in this introductory lesson to decimals. This lesson will focus on tenths and represent decimals with number disks, on number lines, and in expanded form.
Nature of Science, Like a Scientist
5 to 8
The first week of school is all about introducing students to the school and my classroom. I like students to explore the classroom (and expectations), create norms for a safe learning space, and explore what it means to be a scientist.
Structures and Functions of plants and animals
4 to 4
This lesson is part of a unit to meet grade 4 Life Science Standards, Structures and Processes. In this lesson, students will conduct research on various animals and or plants to determine what external structures support survival and growth. In addition, students will use technology to publish their findings to a blog and have the ability to comment and respond to other classmateís blogs, learning from each otherís experiences.
Ratio/proportional Relationships: using graphs, tables, and equations
6 to 7
Students will match proportional relationships using graphs, tables, and one-step equations to show hoe they are related.
BackYard
5 to 8
Interactive lesson that leads into student completion of a Backyard fencing task (including construction of the fencing, locating materials, etc).