The Sustainability Course
Learn How to Craft A Sustainable Technology Program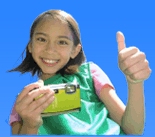 We asked 269 educators how they sustain their technology programs. The most successful schools develop multiple sources of revenue, they trigger strong community engagement, and they prioritize daily support and training for teachers. Take this quick course and get an easy-to-follow action plan that will help your school to develop sustainable funding for your technology initiative.

Untapped Opportunities
The data suggests that the majority of schools already have funding sources available that can be harnessed for technology programs.
Only 14% of schools report "re-budgeting" as a major source of technology funding, however administrators report it's the most viable and immediately available funding strategy.
Respondents shared that grants are one of their most effective sources of funding, and over a quarter of schools who apply are raising over $20,000 per year. Over half of schools are not yet applying for grants.
43% of those schools that do fundraise, raised over $10,000 each year – and one in five raised over $20,000 each year! Only about half of schools are fundraising right now.
Schools report that mentoring and peer-coaching programs immediately increase the availability of IT support, and can also lower IT support costs. 66% of schools are not yet implementing mentoring programs.
In practice, many administrators are developing strong community ties and easily garnering new support from many sources. Over 1/3 of respondents tell us they don't yet receive donations from outside organizations.
About the Course
All of the recommendations were supplied by other schools through a survey of 242 educators, 27 interviews with technology leaders, 28 one-computer-per-child implementation sites, and collected during a year-long study of how successful schools are sustaining their technology programs. The course takes about 30 minutes to complete. You can take it as many times as you like, and instantly get an action plan for the parts of the course that you've completed.
This course is a gift from Digital Wish to you. We hope you will get some great ideas for sustaining your technology programs!