Beginner's Yearbook & Photography Club Digital Camera Mobile Lab
Item #: 2199-YB | Grades K-12


$2149.00
Outfit your clubs with Tool Factory's Yearbook and Photography Digital Camera Lab. Get 6 Kodak PixPro bridge digital cameras for use in a wide range of photography settings. Tripods, beefy memory cards, backup rechargeable batteries, lens cleaning kits and and a digital photography guide book download round out what you'll need for taking great shots. The convenient storage case will lengthen the longevity of your cameras and provide transportation for all your cameras as a single unit. The hard case is practically indestructible and can be easily rolled from class-to-class. It will stand up to classroom abuse, and it's airline approved, so you're all set to travel.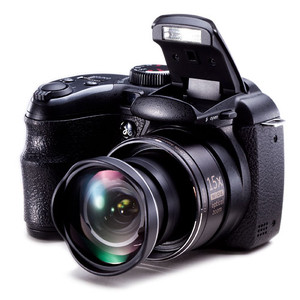 This lab includes:
6 16 megapixel digital cameras with 25x zoom and built in 24mm wide angle
24 Rechargeable batteries with rechargers
6 16GB SDHC Class 10 cards
1 Digital Photography for Educators book download
1 hardshell, waterproof, FAA-approved carry-on crate
6 USB cables and shoulder straps
1 User Guide on CD-ROM
1 lens cleaning kit
6 mini tripods
1 TSA lock
"The teacher saw the kit and it disappeared into their classroom immediately...with a 'Yea" as they left my office. The students wanted to take pictures NOW! " - Dr. Susan Banas, Lead Teacher, Richmond Heights Middle School
Lesson Plan Name
Grades
Enhancing Social Skills and Vocabulary through Photography
K to 5
Students with Autism Spectrum Disorders will use photography to visualize, practice and evaluate their communicative exchanges.Younger students will use pictures to build their vocabulary.
What's Your Angle
3 to 5
Students will use digital cameras to locate and record several type of angles found in their school. They will identify these angles, put into a slide show and use it to teach others about geometric angles.
Exploring My Environment for Speech and Language
K to 5
Student will photograph objects containing their targeted speech sounds and/or items in selected categories. These photographs will be used in a power point slide show for individual drill and copied to establish a "visual library".
Digital Portfolios
9 to 12
Students create digital portfolios of their artwork using PowerPoint.
A Different Perspective
6 to 12
Teaching wheelchair bound students the joys of photography.
School Renovation -- What's Your Idea?!
5 to 8
Students visited area elementary schools to seek ideas for the renovation of their school. Presentations were made to architects and the school board.
Van Gogh Self-Portrait
7 to 10
Students will create a self-portrait in the style of Van Gogh.
From Future Flight to Past Flight
5 to 8
By integrating a virtual learning environment with a real-world, hands-on experience, students experience a higher level of understanding. Furthermore, by teaching others, students exercise their own creativity and long term recognition.
Promoting Reading Posters
9 to 12
Students are featured on large posters endorsing a novel for reading. Posters are student generated and posted throughout the school.
Publishing With Photos!
K to 5
Students will create their own books using photographs for illustrations.