Classroom Claymation Starter Kit
Item #: 9214-AI | Grades 4-12


$199.00
Combining powerful and practical stop motion animation tools and a great beginner's guide to animation, the Classroom Claymation Starter Kit is great way to start creating your first armature stop frame animations! Animate IT! animation software is part of a range of products that has been developed to give children (and adults) of all ages the chance to create fantastic animated films quickly and easily.
Animate IT! has a new intuitive interface with stunningly powerful features. As a bonus those great guys at Aardman are letting you into their secrets and tips as well as providing fun resources on the Animate IT! website
here
.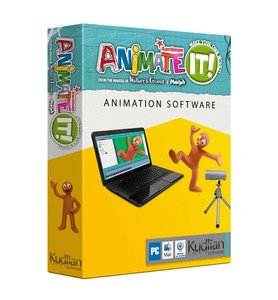 This kit includes:
1 Animate IT! Single computer license download code.
3 Packs of Claytoon Modeling Clay - Featuring neutral, primary, and earth tones.
1 Humanoid Wire Armature - Give your character a backbone with this armature kit.
Logitech C920 HD Webcam (Mac and PC compatible) - For capturing your animation frames into Animate IT!
Webcam tripod to get the perfect angle shots!
Beginner's Guide to Animation Book* - Everything you need to know about animation in a beautifully illustrated book!
For a quick overview of Animate IT! please play the video below.
About Animate IT! software
Create your own stop-motion movies quickly and easily with Animate IT! All you need to do is download the software, plug in a webcam, grab a character and get animating. Animate It! was developed by leading education software publisher Kudlian Software, in association with Aardman Animation Studios, the creators of Wallace and Gromit, Shaun the Sheep and the Oscar nominated motion picture, Pirates, A Band of Misfits.
Animate It! has a new intuitive interface with stunningly powerful features. As a bonus those great guys at Aardman are letting you into their secrets and tips as well as providing fun resources on the Animate It! website
here
.
Great for those new to animation and educators who want an easy to use, inexpensive tool for creating stop motion animations in HD, Animate IT is the right tool for making engaging and inspiring classroom animations with ease.
Educators working with younger learners or students on the Autism spectrum will appreciate the creative ways the program can be used as a digital storytelling device to foster emotional literacy and give a "voice" to students who would otherwise be unable or unwilling to express themselves.
Minimum system requirements: Windows XP, Vista, 7 or 8

Microsoft .Net Framework 4 (available as a free download from the Microsoft website)

Graphics card recommended and should support DirectX 9 shader model 2.0

Intel Mac, OS X version Snow Leopard 10.6.0 or later (OS X version Lion 10.7.0 or later recommended).

USB webcam/inbuilt webcam or FireWire DV camera

1.5GB RAM (2GB RAM recommended)

2GHz CPU

100MB HD space

Lesson Plan Name
Grades
Stain Glass
P-K to 12
This is 5 lesson plans in sequence from introduction through Glass History to the current methods applied in Glass Forms: lesson 1, stain glass history; lesson 2, community impressions; lesson 3, stain glass design; lesson 4, color theory; lesson 5, form and application. Wrap up includes reflection.
Social Issues
10 to 12
Students work in groups to identify and create a video presentation of a social issue facing America. Students must conduct interviews and research on a topic and create a documentary of the issue and a conclusion.
City's 50th Anniversary: A Snap Shot in Time
K to 12
Walnut is celebrating its 50th anniversary. The project would have students from all age levels taking picture and creating a living snap shot of the community regardless of age, sex, or beliefs. This would be put on display in City Hall and used as a video for the local Cable Network.
Producing a Franchise to encourage global awareness, increased, informed decision making about health, peer relationships and education.
7 to 8
The students will determine categories of franchises from which to work out media productions for weekly broadcasts on our school news show.
Student Solutions- Saving Our Surroundings
4 to 8
Students will investigate plants, animals and their habitats creating several products to educate and share their fellow classmates. During the process of research, students will also develop ideas to help solve the problem of endangered habitats, animals and plants.
Fredrick Douglass...A digital History
7 to 7
Using technology, the students will create projects that depicts the stuggles of slaves with a focus on Fredrick Douglass and his determination to abolish it.
Poetry Alive! Interpreting Poetry Using Digital Images
9 to 12
A team of English students will take the role of a production company and will create a 4-5 minute film using the digital image as a medium for interpreting students' original poems. Three classes will be working together in order to complete this project: Creative Writing, English, and The Actor's Studio.
Middle Ages Cross Curriculum Project
6 to 8
This project incorporates all subject areas while students learn about the Middle Ages.
Everything American
8 to 8
Students work collaboratively to define "American Culture" by capturing images of the American way of life, and using them to create a PowerPoint display using words and images.
The Three People I Would Like to Invite for Dinner
7 to 9
This is a 7th grade presentation project designed to get the students to think about the qualities of a real hero. The students will decide on 3 persons to invite to a special dinner party, the first person is a historical figure whom they admire, one a contemporary (in their lifetimes), and one person they know well.