Blackmagic Pocket Cinema Camera - body only
Item #: BMD-PCC | Grades K-12


$1295.00
Blackmagic Pocket Cinema Camera - Ideal for Cinematography Courses and Filmmaking Programs!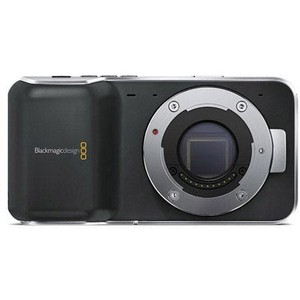 Blackmagic Design · Cinema Camera · Pocket Cinema Camera · 4K · 1080p · Wireless · HDMI · USB · SD Card · Interchangeable Lens
The Blackmagic Design Pocket Cinema Camera 4K features a 4/3" sensor for capturing up to 4096 x 2160 DCI 4K images at rates up to 60 fps in a variety of codecs including Blackmagic Raw at several bit rates and various ProRes 422 options. Slow-motion rates up to 120 fps are available in cropped Full HD.
Its Micro Four Thirds lens mount accommodates the original, lightweight Pocket Cinema Camera lenses, and can be used with PL, C, EF, and other lenses with the use of separately available adapters.
A dual-native ISO up to 25,600 is featured for low-light capture, and 13 stops of dynamic range provide rich HDR images. Record using the internal CFast 2.0 and SD/UHS-II card slots or employ the USB-C output for capturing longer clips to an external drive.
The Pocket Cinema Camera 4K's 5" touchscreen LCD display reduces the need for an external, onboard monitor, while a full-sized HDMI port enables you to output a signal to a larger display.
The menu and interface are the same as the ones found on the URSA Mini camera, and 3D LUTs can be applied for monitoring or for baking in your look when you're ready to commit.
Audio features include a mini-XLR input with phantom power for pro-style mics, a 3.5mm jack, and an internal stereo mic. Additional features include the same Blackmagic OS as the URSA Mini, and Bluetooth remote control.
A license key for DaVinci Resolve Studio is included for versatile post-production control. The Pocket Cinema Camera 4K's carbon fiber composite build provides lightweight strength and durability, and power options include running off the included Canon LP-E6 type battery or the included power supply.
What's in the box?
Wrist Strap
Turret Dust Cap
12V AC Adapter
Rechargeable Lithium Ion Battery (EN-EL20)
SD Card with DaVinci Resolve Lite Software and User Manual
1-Year Limited Warranty
Minimum system requirements: Summary

Screen Type

LCD

Screen Size

2"

Max Video Resolution

1080p

Digital Still Megapixel

16MP

Recording Format

MP4 (H.264) - Videos

Color

Black

Features

Internet Upload Button

Yes (for Windows® based systems)

Physical Description

Width

2.2"

Height

4.3"

Depth

0.7"



Main Specifications

Image Sensor

5MP BSI CMOS Sensor

Digital Zoom

16X

On Board Memory

128MB Nand Flash Memory

Expansion

Up to 64GB SD/SDHC/SDXC

Still Picture Resolution Options

16MP (4608 x 3456), 3MP (2048 x 1536), 5MP (2592 x 1944)

Video Resolution Options

HD (720p/60fps), VGA (640x480/30fps), HD (1280x720p/30fps), FHD (1920x1080p/30fps)

Exposure

Auto

White Balance

Daylight, Auto, Fluorescent, Tungsten

Scene Mode

Auto, Backlight, Night, Skin

Filter Mode

Classic (Sepia), Negative, Black & White, Auto

Self-timer

Approx. 10 sec.

Light

On, Off, Digital Light

Video Stabilization

Digital image stabilization

File Format (video)

MP4

Power Saving Mode

Auto off after approx. 3 Minutes

Battery Video Recording Time

Approx. 1h40

Photos Taken Vs. Capacity (1GB SD)

1GB SD: 16 megapixel (interpolated) = 224 photos, 3 megapixel = 1113 photos, 5 megapixel = 699 photos

System Requirements [PC]

512MB RAM, 1GB free hard disk space, Intel Pentium 4, 2.4GHz above, Microsoft® Windows XP / Vista® / Windows® 7, 4X CD-ROM, available USB 2.0 port

System Requirement [Mac]

DVD-Rom, Mac OS 10.5 or above, 1GB RAM, USB 2.0 Port, 1GB free hard disk space, Intel® Core™ 2 or above

Box Content

Camileo Uploader (software for Windows® based systems), Hand strap, Li-Ion rechargable battery, Quick Start Guide, Software CD (User's Manual, warranty information, ArcSoft video and photo editing software), USB cable, cleaning cloth

Approximate Video Recording Capacity - MPEG4

1GB SD: FHD (1080p) = 14 min, HD (720/60fps) = 16 min, HD (720p/30fps) = 26 min, VGA (480/30fps) = 70 min

Warranty

one year standard limited

Lesson Plan Name
Grades
Bollywood, Philadelphia
9 to 12
Students will create a Bollywood-type musical using digital media.
Fit or Fat?
6 to 8
Students will be involved in a Science and Health lessons that involve nutrition and exercise. They will create Healthy Snacks and exercise profiles for the class.
Exploring our World through Video
2 to 4
I want to allow students to use video to express their lives and the area in which they live. I also would like for them to learn how to use a camera, import video and create great projects using that video.
Title: Digital Photo Storytelling on Five Senses, a project based learning activity by Mary Gore
P-K to 2
Learning about the five senses is a very exciting and fun experience that students in the primary grades are eager to engage in as well as share with others, in and out of the classroom. Through digital photo storytelling project learners are able to document their experiences and take on various roles as they create a presentation project.This is a project based learning activity.
Movies for Motivation: Encouraging Literacy Through Student-Created Films
9 to 12
Struggling readers enrolled in a Targeted Reading class will use Tool Factory Movie Maker to create videos advertising their favorite books. These videos will then be shown to the entire school as part of a school-wide literacy encouragement effort.
30 Ways In 30 days
5 to 6
Learners are challenged with the essential question, "How can I make a significant difference in the world in just 30 days?" To highlight their experience, the learners must keep a log book, create a documentary, and publish an original book.
(PART 2) Applied STEM: Rocketry and its Components
6 to 8
See Part 1 for all following sections with the exception of Lesson Plan Description.
(PART 3) Applied STEM: Rocketry and its Components
6 to 8
See Part 1 for following sections with the exception of Lesson Plan Description.
(PART 4) Applied STEM: Rocketry and its Components
6 to 8
See Part 1 for the following sections with the exception of Lesson Plan Description.
Movies for Mothers
P-K to 5
Students will use photos, drawings, and videos to create a movie using Tool Factory Movie Maker as a heartwarming gift for their mother on Mother's Day.