XYZPrinting da Vinci 2.0 DUO Two-Color 3D Classroom Printer
Item #: DAV-DUO | Grades 6-12


$649.00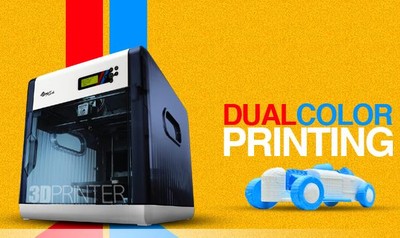 One of the most affordable and simple to use 3D printers and the Editor's Choice Award at CES 2014Free Shipping until Jan 5 2016!
XYZPrinting's da Vinci 2.0 Duo features two extruders allowing you to create multi-color projects using the 13 filament colors available in easy-to-install cartridges.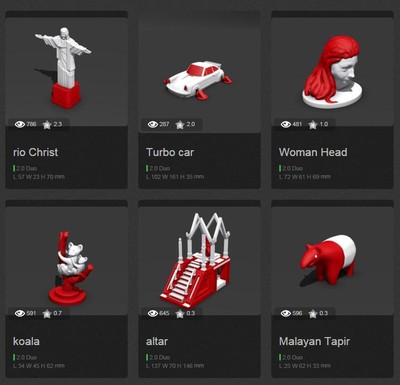 The da Vinci 2.0 comes fully assembled and ready-to-go right out of the box with various useful tools such as automated nozzle cleaning and print bed detection for assisted leveling. XYZprinting's da Vinci 2.0 is your choice for an easy, hassle-free, 3D printing experience. The printer is CE certified and features a fully-enclosed design which protects the users from the high temperatures required to print. Full enclosure also ensures that no external filament movement occurs.
XYZprinting's also ensures that you have support at every step of your 3D printing process. They offer a 3D design community, 3D Design Hub, and Artist Collection - which features hundreds of free and easy-to-print, downloadable designs from all around the world!
Compatible with XYZ ABS Filament - Available separately. Printer package includes starter filament cartridge.
Minimum system requirements: Supported Operating Systems

Windows XP (.Net 4.0 required) and Windows 7 above (for PC)

Mac OSX 10.8 64-bit above (for Mac)

Note: A standard VGA driver or a graphics card doesn't support OpenGL 2.1, may cause unknown error in XYZWare.

Hardware Requirements X86 32/64-bit compatible PCs with 2GB+ DRAM (for PC)

X86 64-bit compatible Macs with 2GB+ DRAM (for Mac)

Connectivity USB 2.0

Dimensions (W x H x D) 18.4 x 20 x 22 inches

Packaging Box Dimensions (W x H x D) 22 x 23.2 x 27.5 inches

Package Gross Weight

62.9 lbs (27.5kg)

Technology FFF (Fused Filament Fabrication)

Maximum Build Volume (W x H x D) 5.9 x 7.8 x 7.8 inches (15 x 20 x 20cm)

Resolution Fine 0.1mm (100 microns)

Standard 0.2mm (200 microns)

Speed 0.3mm (300 microns)

Ultra Fast 0.4mm (400 microns)

Print Head Dual Nozzle

Nozzle Diameter 0.4mm

Filament Diameter 1.75mm

Display Panel Type

4 x 16" FSTN LCM

Language English, Japanese

Software (XYZWare) File Types

.stl, XYZ Format

Lesson Plan Name
Grades
Building Vocabulary with Digital Fotos.
8 to 12
Presents ways that students could use digital cameras to develop Spanish vocabulary.
Toy Inventor's Workshop
11 to 11
Students work in small groups to develop a toy for preschool age children.
In the Days of our People: Shageluk, Alaska
K to 12
Archiving Athabaskan Memories from Shageluk: Student projects
Social Issues
10 to 12
Students work in groups to identify and create a video presentation of a social issue facing America. Students must conduct interviews and research on a topic and create a documentary of the issue and a conclusion.
Producing a Franchise to encourage global awareness, increased, informed decision making about health, peer relationships and education.
7 to 8
The students will determine categories of franchises from which to work out media productions for weekly broadcasts on our school news show.
THE LONG AND SHORT OF IT - SHADOWS
K to 2
Kindergarten through Second Grade students will explore light and shadows in science.
Figurative Language
4 to 5
Students create a visual image using Kidpix of an example of hyperbole or personification.
Science and Art Museum
6 to 8
Middle School students create works of art inspired by document experiments in science. Digital cameras record SCIENCE AS ART, in action!
New School Mural
P-K to 12
Students will use digital images to create a mural for one of the walls next to the breezeway doors.
Multi Media Urban Stories: "This is who I am"
1 to 12
Students will take pictures of their community, home, friends and family and provide written captions for an artistic display in the City Heights Mid City Building as well as publish their work to our classroom website and provide podcast audio captions that express description, sentiment, opinion, questions, and facts.