Dash and Dot Robots
Item #: DDR-001 | Grades K-5


$199.95




Status: Free shipping on orders over $99
Discover a new world of play, learning and adventure
Meet Dash,
the explorer
and Dot, the storyteller.
Bring STEM to life with Dash & Dot robots, hands-on learning tools for grades K - 5.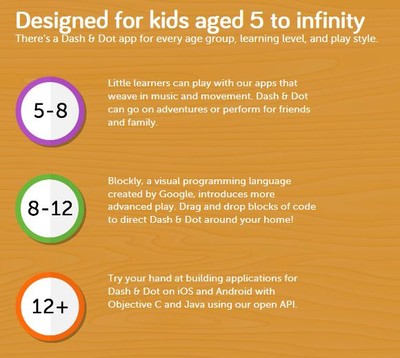 About Dash and Dot
Dash & Dot by Wonder Workshop are exciting, hands-on learning tools for students in grades K-5! Targeted at teaching creative problem solving and computational thinking, Dash & Dot help students learn fundamental processes relevant for all 21st century skills. Students send commands to the robots to move them, light them up, and have them detect the world around them using 4 free coding applications available on iPad and Android tablets.
"Dash & Dot have transformed the way my students learn about coding and computer science."
Susan Prabulos, technology teacher, Meadow Lane Elementary, NE
Note:
Dash & Dot require iPad 3 or newer, iPad Mini, or select Android tablets. Click on the yellow specifications tab above for the compatibility list.
New ways to play and learn
Kids can define how they want to play. Whether your child is into having make-believe tea parties, building elaborate forts, or adventuring with friends, Dash & Dot will be there every step of the way. Empower your child to program Dash & Dot into anything they imagine.
Interact with the real world
It's a big world out there, and Dash & Dot are ready help you explore. Program them to squeal when you pick them up, navigate around sharp corners, or be on the lookout for approaching siblings or pets.
Visual, hands-on programming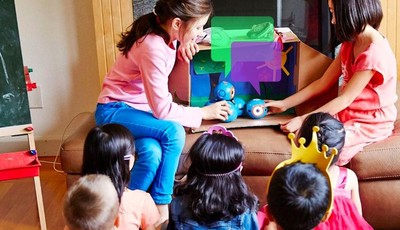 We set a low floor but a high ceiling for coding. Blockly is a drag-and-drop programming language that snaps together like puzzle pieces. Start by sending simple commands, learn programming concepts as you play, and progress to creating more complex algorithms.
Endless creative possibilities
Dash & Dot are even more fun with add-ons. Play a song on Dash's Xylophone, take videos using the smartphone mount, and add bricks (including LEGOTM) to them with Building Brick Connectors. Transforming Dash & Dot is easy with accessories and a small dose of creativity.
Watch this video of a classroom using Dash and Dot
"They have been instrumental in teaching students empathy, cooperative play, teamwork, patience, resilience, persistence, and taking risks."
Smita Kolhatkar, technology teacher, Barron Park Elementary, CA
STEM and other Learning Objectives
Dash & Dot are characters that ignite curiosity and confidence while providing fun and engaging ways of learning essential skills including: collaboration,communication, and digital literacy. Teachers use Dash & Dot to teach a variety of subject areas including the following:
Computational thinking.
Analyze problems and design algorithms to program robot actions and reactions using Blockly, a visual drag-and-drop coding tool.
Math.
Explore concepts like the number line, geometry, angles, distance, time, and variables.
Science.
Learn about the scientific method, or program Dash to mimic behavior in the natural world.
Engineering.
Develop design thinking skills by building extensions on the robots with LEGO® bricks.
Creative writing and the arts.
Explore storytelling, drawing, and even music.
Dash and Dot Accessories
**SOLD SEPARATELY**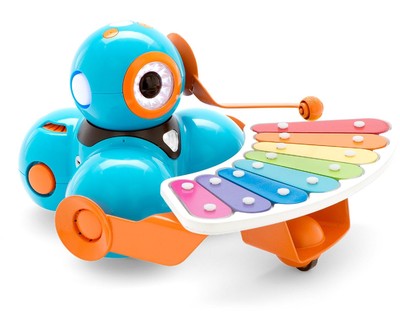 Xylophone
- Compose, loop, and play tunes while driving around. Use along with the Xylo App to compose your own musical masterpiece!
Building Brick Connectors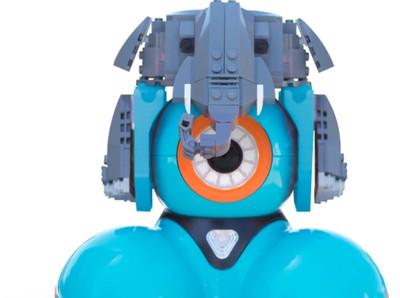 Transform Dash and Dot into anything you can imagine with popular building bricks such as LEGO&trade.
Tow Hook
Use the tow hook to take Dash & Dot on an adventure, bring a friend for a ride or just hang around.
Smartphone Mount
Record what Dash & Dot see with this handy smartphone mount.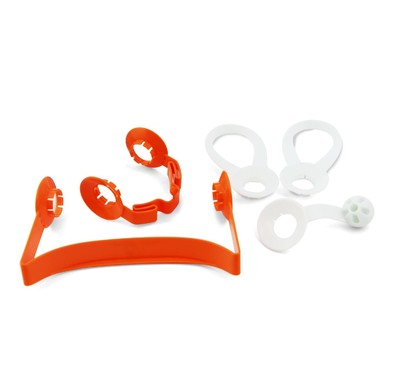 Bunny Ears & Tail
Wait, did you hear that? Hop around the room with bunny ears and tail for Dash & Dot.
Bulldozer Bar
Get some serious work done with Dash's bulldozer bar.
Added Benefits Curriculum Included
Comprehensive lesson plans aligned to Common Core and NGSS standards designed for teachers by teachers. Our cross-curricular lessons cover math, science, ELA, coding, and more. All lessons include detailed lesson procedures, guiding questions, evaluation rubrics.
Apps to use with Dash and Dot
Dash and Dot come with 4 Apps:
Go, Path, Blockly and Xylo.
These apps are for moving Dash and Dot, setting paths, programming by snapping together puzzle pieces and creating.
Wonder Magazine and classroom activities included
You'll receive the informative Wonder Magazine along with a getting started guide and a collection of classroom activities. You'll also be included in the Teach Wonder Program, where you'll get the latest tips along with how other teachers are using Dash and Dot in their classrooms.
Volume Discounts for Educators!
Get 20% off when you purchase 5 or more Dash and Dots. See pricing in the drop down price menu at the top of the page.
FREE shipping on orders of Dash and Dot!Warranty and Money Back Guarantee
For Thirty (30) days after date of order shipment by Wonder Workshop™, Inc., there will be a refund of the purchase price or exchange the Product.
For One (1) year after purchasing the Product, you will be covered by a Limited Warranty.
About the Creators of Dash and Dot - Wonder Workshop
Founded in 2012 in San Mateo, California with a mission of making coding meaningful and fun for kids. Their Mission Statement is:
Make Wonder
"We think kids spend far too much of their days hearing about what they should and shouldn't do.
The toy industry tells them which toys it's okay to play with. Success is too often measured by standardized performance, rather than individual ingenuity. However as parents, we want kids to learn to think for themselves.
We believe that every child should be empowered to question, think, and create. We want to encourage them to be curious and to find their own joy in learning. Coding enables creativity and agency in this new world. By learning to code, they are becoming shapers of their own world."
Minimum system requirements: Supported OS(s) and Devices

iOS 7.1 or newer

iPad 3 or newer,

iPad Air,

iPad Mini

iOS 8.1 or newer (Go app only)

iPhone 5, 5c, 5s, 6, 6+,

iPod Touch 5

Android 4.4 (KitKat) or newer

Nexus 7 (2013 / 2nd generation),

Nexus 9,

Galaxy Note 10.1 or newer,

Galaxy Note Pro 12.2,

Galaxy Tab 3 8.0, 10.1,

Galaxy Tab 4 7.0, 8.0, 10.1

Galaxy Tab Pro 8.4,

Galaxy Tab S 8.4, 10.5

Nabi 2S

Nabi DreamTab

Galaxy S4, S5 (Go app only)

Lesson Plan Name
Grades
Kids with Cameras make a difference
1 to 4
1-4th grade students create a photography exhibit titled "Sense of Place" about their community and then use the exhibit to collect donations to support international Kids with cameras programs.
Electricity - how it works and how we measure and pay for it!
6 to 12
What is electricity, and where can we see it in our daily lives. This lesson is primarily informational, providing an easy-to-understand description of electricity and how it is literally all around us.
High School Energy Audit
9 to 12
You will take scientific measurements, question school staff, and obtain various kinds of information related to how your school uses energy. As you finish each investigation, you will write a scientific report with graphs and recommendations and present it to school officials.
Digital Bubble Maps - Geography of our Environment
P-K to 6
Each environment is different depending on where we live. This lesson is to visually capture the geographical environment a student is apart of.
Fit or Fat?
6 to 8
Students will be involved in a Science and Health lessons that involve nutrition and exercise. They will create Healthy Snacks and exercise profiles for the class.
Title: Digital Photo Storytelling on Five Senses, a project based learning activity by Mary Gore
P-K to 2
Learning about the five senses is a very exciting and fun experience that students in the primary grades are eager to engage in as well as share with others, in and out of the classroom. Through digital photo storytelling project learners are able to document their experiences and take on various roles as they create a presentation project.This is a project based learning activity.
(PART 2) Applied STEM: Rocketry and its Components
6 to 8
See Part 1 for all following sections with the exception of Lesson Plan Description.
(PART 3) Applied STEM: Rocketry and its Components
6 to 8
See Part 1 for following sections with the exception of Lesson Plan Description.
(PART 4) Applied STEM: Rocketry and its Components
6 to 8
See Part 1 for the following sections with the exception of Lesson Plan Description.
Movies for Mothers
P-K to 5
Students will use photos, drawings, and videos to create a movie using Tool Factory Movie Maker as a heartwarming gift for their mother on Mother's Day.