GoPro HERO8 Black Activity Camera
Item #: GPH5-B | Grades K-12


$299.99
Let your students' creativity run wild with the World's #1 activity & action camera!
GoPro cameras are easy to use, wearable, waterproof and ultra durable - making them a perfect leaning tool for your students.
GoPro HERO8 Black - The Most advanced GoPro ever.
HERO8 Black is the most powerful and easy-to-use GoPro ever, thanks to its 4K video, voice control, one-button simplicity, touch display and waterproof design.
Smooth stabilized video, crystal-clear audio and pro-quality photo capture combine with GPS to make HERO8 Black simply the best GoPro. And when it's time to edit and share, HERO5 Black automatically uploads footage to your GoPro Plus cloud account to provide easy access on your phone. Then, you can create amazing videos automatically with Quik, the GoPro editing app.
With 4K-video capability, touch free voice control, a full 2 inches of screen and even better image quality than its best-selling predecessor, HERO8 Black delivers footage that's sharper, richer and more detailed. Combined with powerful new features and technologies—and improvements to audio, usability, wireless connectivity and more—HERO8 Black is the most advanced, highest-performing GoPro ever.
HERO8 Black FeaturesCapture high-quality 4K video/12MP Photo
- Stunning 4K video and 12MP photos in Single, Burst and Time Lapse modes.
2" color touch-screen LCD display
- Gives you a clear view of the action you're recording or reviewing. Preview and play back your shots, change settings
and trim your footage, all on your GoPro.
Video Image Stabilization
- GoPro knows that smooth footage is super critical to enjoying your videos. The HERO8 Black takes a huge technology leap in minimizing shake and vibration distortion to keep your footage steady. HERO8 Black can capture stunningly smooth video handheld, mounted to your favorite gear and more.
Voice Control
- Enjoy hands-free control of your GoPro. Just say "GoPro, take my picture" and it responds to your command!
Built-in stereo microphone with wind noise reduction
- Provides a rich soundscape. Advanced audio processing captures left and right stereo audio channels.
Exposure Control
- Fine-tune exposure settings with simple on-screen Exposure Control.
RAW WDR Photo
- RAW photos provide the most flexibility when using advanced photo editing software. WDR photo mode captures added details in both shadows and highlights in the scene
MicroSD card slot
- Supports microSD Card. (Card required to capture video and is not included with camera.) We recommend the SanDisk Extreme micro SDHC card available in our GoPro Accessories section.
GPS Enabled
- Captures the location where your photos and videos are taken.
Built in Wi-fi and Bluetooth
- Make it easy to stay connected with GoPro apps, accessories and more.
Waterproof design
- Use your HERO5 without additional housing at depth up to 33ft.
Access and Share Anywhere
- With an optional GoPro Plus subscription, HERO8 Black can auto upload photos and videos directly to the cloud for easy viewing, editing and sharing on the go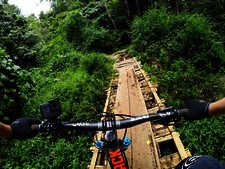 The Power of GoPro Cameras in Education
GoPro cameras are easy to use, waterproof and ultra durable—making them great for kids, the classroom and real-world learning environments.
Inspire and engage your students in an all-new way by introducing GoPro cameras to the classroom. The perfect complement to your existing technology, GoPro cameras are wearable, mountable, waterproof—and best of all, virtually kid-proof Combined with over 60 available mounts and accessories for nearly any activity these cost-effective cameras deliver a unique point of view and professional image quality ideal for a wide range of uses—from student TV productions and instructional videos, to flipping your classroom and team sports.
Everyday instructional uses of GoPro camerasVideo Production
GoPro cameras are used in professional TV and video productions around the world. With stunning image quality and video resolutions up to 4K, they're a great asset for school television networks, yearbook and drama clubs, athletics and assemblies. GoPro Studio editing software makes it simple for students to create engaging videos for projects and assignments.
Team Sports
With high-frame rate video modes perfect for slo-mo—plus Burst and Time Lapse photo modes—coaches can analyze every movement to critique student athletes on proper form and technique. Helmet and chest mounts allow athletes to capture sports from their point of view, hands-free. This makes for ultra-immersive footage that's great in school video projects.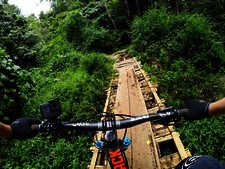 Instructional Videos
Teachers can create their own videos to share with students. Demonstrate critical steps for science experiments, make a how-to video, record a lesson or bring the outside world into your classroom. Students can make individual and collaborative project videos to integrate into the learning experience.
Field Trip Documentation
Taking your students somewhere special? GoPro cameras make it easy and accessible to document unique or hands-on educational experiences outside the classroom to share with parents, other classes and students who couldn't attend.
STEM based Projects
Use GoPro cameras to enhance your science, math, tech and engineering projects. Record experiments and gather data with video, still photos and create a visual presentation of your experiments using
GoPro Studio
video editing. software. Share your project presentations with the
GoPro AppStudying physical forces using a GoPro Hero camera and a data collection app
- "Our goal was to show students how amusement park rides are great real-world places to feel the effects of several types of accelerations, which most persons call "g forces." Rather than just talk about the accelerations in class, it's more fun to actually experience them. Technology allows us to record, measure and document the experiences. We were successful in recording and editing the video; collecting, manipulating and visualizing the data; and hopefully allowing our students the opportunity to take their learning to the next level with this project." -
L. Christofano, teacher, Bethel Park High School, PA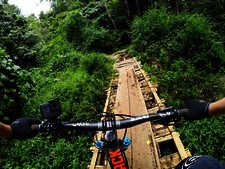 GoPro Apps and SupportControl, view and share with built-in Wi-Fi + Bluetooth®.
With built-in Wi-Fi and Bluetooth, you can connect to the GoPro App to control the camera remotely with your phone or tablet, view the content you've captured and share your favorite shots on Instagram, Twitter and more. You'll also have instant access to the GoPro Channel, so you can get your fix of the latest GoPro videos from across the globe. The Smart Remote makes it possible to control multiple GoPro cameras from distances of up to 600' (182m).
Offload. Edit. Enjoy.
The GoPro App for desktop is the easiest way to offload and enjoy your GoPro photos and video, make quick edits and share your favorite shots.
Key Features
Optimized for offloading, organizing and sharing GoPro photos and videos
Includes powerful features for viewing and editing burst and time-lapse photos
HiLight Tags help you quickly find your best moments
Simple video trimming tools make it easy to create and share short clips
Comes bundled with GoPro Studio for more advanced editing
Updates your GoPro with the latest features for optimal performance
GoPro App + GoPro Studio.
Expand your GoPro experience with the free GoPro App and GoPro Studio software. The GoPro App allows you to control your camera remotely using your phone or tablet, view and share your content and watch "best of" videos on the GoPro Channel. Use GoPro Studio to import and view your GoPro media, and create your own engaging GoPro-style videos to share with the world.
Getting Started and Support
GoPro provides the following resources at their website
Download software and software updates
Tutorials
Account setup to get updates, win prizes and share videos
User Manuals
Access to the Support Hub where you can find and share solutions,
What's included
Lithium-Ion rechargeable battery (3.85V 1220mAh 4.70Wh)
22" USB cable (Type A USB on one end and USB-C on other end)
Flat adhesive mount
Curved adhesive mount
Let's Get Started booklet
Important Product + Safety Information booklet
GoPro Care card
GoPro Plus card
Sheet of 3 GoPro decals
Minimum system requirements: HERO 5 Black Specs

Best Use Photography

Megapixels 12

Waterproof Yes

High Definition Yes

Vertical Resolution 4K / 2.7K/ 1440p / 1080p / 960p / 720p / WVGA

Image Stabilization Yes

Still Mode Yes

Movie Mode Yes

Frames Per Second 240 fps. / 120 fps. / 100 fps. / 80 fps. / 60 fps. / 48 fps. / 30 fps.

Instant Review Yes

Interface Outputs: HDMI, USB 3.0 (USB 2.0 speed), NTSC, PAL

Remote Control Yes

OS Compatibility Windows / Mac

Power Source Rechargeable lithium ion

Memory Storage Type MicroSD Card

Included Memory None

LCD Screen Size 1.95 inches

Dimensions 2.4 x 1.25 x 1.75 inches

Geotagging Enabled Yes

Weight (Without Batteries) 4.1 ounces

Lesson Plan Name
Grades
Bollywood, Philadelphia
9 to 12
Students will create a Bollywood-type musical using digital media.
Fit or Fat?
6 to 8
Students will be involved in a Science and Health lessons that involve nutrition and exercise. They will create Healthy Snacks and exercise profiles for the class.
Exploring our World through Video
2 to 4
I want to allow students to use video to express their lives and the area in which they live. I also would like for them to learn how to use a camera, import video and create great projects using that video.
Title: Digital Photo Storytelling on Five Senses, a project based learning activity by Mary Gore
P-K to 2
Learning about the five senses is a very exciting and fun experience that students in the primary grades are eager to engage in as well as share with others, in and out of the classroom. Through digital photo storytelling project learners are able to document their experiences and take on various roles as they create a presentation project.This is a project based learning activity.
Movies for Motivation: Encouraging Literacy Through Student-Created Films
9 to 12
Struggling readers enrolled in a Targeted Reading class will use Tool Factory Movie Maker to create videos advertising their favorite books. These videos will then be shown to the entire school as part of a school-wide literacy encouragement effort.
30 Ways In 30 days
5 to 6
Learners are challenged with the essential question, "How can I make a significant difference in the world in just 30 days?" To highlight their experience, the learners must keep a log book, create a documentary, and publish an original book.
(PART 2) Applied STEM: Rocketry and its Components
6 to 8
See Part 1 for all following sections with the exception of Lesson Plan Description.
(PART 3) Applied STEM: Rocketry and its Components
6 to 8
See Part 1 for following sections with the exception of Lesson Plan Description.
(PART 4) Applied STEM: Rocketry and its Components
6 to 8
See Part 1 for the following sections with the exception of Lesson Plan Description.
Movies for Mothers
P-K to 5
Students will use photos, drawings, and videos to create a movie using Tool Factory Movie Maker as a heartwarming gift for their mother on Mother's Day.