DUX Case for 5th and 6th Gen iPads
Item #: STM001 | Grades K-12


$59.95
Dux Case for 5th and 6th Generation iPads
Designed with input from educators and IT professionals, Dux was created to ensure it could withstand the unique rigors of the classroom, at home or outdoors.
Dux features a patented magnetic closure that allows for easy folding into typing or viewing modes, a transparent back panel that accommodates easy barcode scanning or your own personalization, as well as a durable and water resistant polyurethane cover to ward off occasional drips or spills.
Reinforced corners safeguard the iPad from inadvertent drops—protection that's been verified, having exceeded U.S. Department of Defense Standard drop tests. Deliver best–in–class protection for your iPad with Dux.
Features
Mil–Spec tested – exceeds U.S. Department of Defense drop test standards
Super protective – polycarbonate and rubberised TPU bracket for even the most accident prone among us
Clear back for easy easy viewing of asset tags and barcodesscan a tagging barcodes
Water resistant – durable polyurethane cover wards off liquid drips or spills
Patented magnetic closure – easily folds into the perfect typing or viewing position
Instant on/off cover – wakes up/turns off the device, saving battery life
Built in storage for Apple Pencil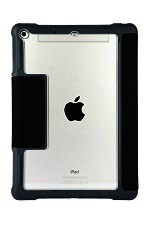 Color options
- Dux color options include red and midnight blue. If you have a color preference, please email us your choice to
[email protected]
and reference your order number.
Minimum system requirements: Tech Specs

Main material(s): PC / TPU / PU

Outer dimensions: L 24.8 x W 17.7 x H 1.5 cm / H 9.7 x W 6.9 x D 0.59 in

Device size: H 24.5 x W 17.5 x D 1 cm / H 9.5 x W 6.8 x D 0.4 in

Weight: .69 lbs / 0.313 kg

Lesson Plan Name
Grades
Exploring our World through Video
2 to 4
I want to allow students to use video to express their lives and the area in which they live. I also would like for them to learn how to use a camera, import video and create great projects using that video.
Making the yearbook
10 to 12
On any given day, the lesson plan in my yearbook class is roughly the same for everyone in my class: find something interesting going on in the school (a sporting event, a club meeting, a class presentation a field trip, a play, etc.). Attend that event, take a pile of photos, and then the fun of telling the story begins!
Cubelet Fluency
6 to 8
The students will be able to explain the function of each Cubelet. They will be able to construct simple robots out of the Cubelets.
Paul Revere's Ride featuring EduBlogs
5 to 5
In this lesson, students will use the program Edublogs to create a blog post comparing and contrasting the three accounts of "Paul Revere's Ride".
Letter matching/naming with Osmo
P-K to P-K
Students will use Osmo learning system to learn to identify and manipulate letters, sounds and words. The program works with iPads which makes the program interactive and exciting for the students.
Synthesis Essay
11 to 12
Students will gather information about their topic using reliable websites to justify their position for the paper.
SpellingBot
2 to 2
During Word Work station, students will create a robot using Cubelets Robot Blocks that will help them spell and locate the correct spelling of their spelling words.
Artistic Expression of the Scientific Revolution
9 to 10
Students will explore the influences of the Scientific Revolution beyond literal scientific tools and inventions through reading, collaborating, scavenging, and games. Students will identify the ways in which science influenced and transformed European cultural institutions through art and music.
Mock Congressional Hearings
6 to 8
Last year I was privileged to attend the James Madison Legacy Project that equip teachers with the skills to dynamically teach civic education. Groups of students, (size varies), research and report on Constitutional matters in a mock Congressional format after extensive research and refined communication skills.
Digital Rube Goldberg Lesson
P-K to 12
This lesson requires the use of physics, critical thinking skills, creativity, and group collaboration to create a multi-step Rube Goldberg design that begins as a virtual lab and can become a physical project or competition.