HoverCam Solo 8 - USB Document Camera
Item #: Solo8Plus | Grades K-12


$414.00
Solo 8 Plus Overview
Demonstrate complex concepts to your students with the HoverCam Solo 8 Plus Document Camera. It has a lightweight design for easy portability. Functions like time-lapse video and slow motion on the scanner modernizes your classroom. It features a built-in microphone for efficient collaboration. The BSI-CMOS sensor of this document camera produces every detail in ultra-clear quality at a resolution of 13 MP. It also record live 4K video at a rate of 30 fps.
New Features with the Solo 8 Plus
Boost the resolution from 8 to 13 megapixels
Outputs true, uncompressed 4K resolution at 30 fps (uncompressed is the keyword.) In layman's terms, this is true 4k "uncapped" ultra high definition
A "slow motion" video playback function. Solo 8 at lower resolutions is really fast (incredibly high FPS)
A "time lapse" video recording function
True 4K with Full Motion
The HoverCam HCS8+ Solo 8Plus is the world's first digital document camera that is compatible with iOS devices and features a lightning interface. The Solo 8Plus continues the Solo 8's ground-breaking USB 3.0 performance and now features a 13-MegaPixel, auto-focus camera for 4K video resolution with full motion.
Adaptive Sensor Resolution (ASR) Technology
The camera's adaptive sensor resolution (ASR) technology lets the user zoom without degradation. The document camera's video capabilities can preview or record video at 30 FPS. It's also the first 4K full motion camera with 120-FPS warp speed recording, allowing for slow-motion viewing. The Solo 8Plus works with HoverCam's popular camera view software to enable seamless lesson recording, time lapse video capturing, and scanning.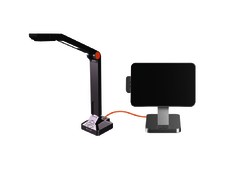 Wirelessly Stream Content through AirPlay
HoverCam also debuts their Clipper iPad Adapter, the first Lightning port connector with MFi certification for a document camera. The battery-powered iOS adapter allows educators to plug the Solo 8Plus into their iPads and turn it into a wireless document camera. Teachers can wirelessly stream their students' work through AirPlay onto a projector or large HDTV panel.
Annotate Over Live Video
HoverCam FlexVIEW comes with a rich set of annotation tools that are often only found in Interactive Whiteboard software. We've also gone beyond annotation over still images, and enabled annotation over live video. This allows you to illustrate points better, to present more clearly and to make your classroom more interactive.
Archive and Organize
FlexVIEW gives you the convenience of a full-featured archive manager. Instantly know where your images and videos are stored. Effortlessly search, tag, group, stack, combine and collate files. Create multiple paged PDF or TIFF files or create various folders to keep class documents and student files organized.
Compact & Versatile
Our advanced electronics are paired with meticulous craftsmanship and well thought-out design. Five pivot points allow the camera to be pointed in any direction, raised to shoot large areas, lowered for close-ups and folded for compactness. A swivel lens allows for 90-degree rotation for image orientation.
No External Power Adapter Needed
A single USB 3.0 cable is the only thing needed to power the Solo 8. This gives you the convenience of plug-and-play simplicity. The Solo 8 uses less than 5 volts, which is within the maximum power of USB 2.0 and only half the power of USB 3.0.
Scan from A3 to Business Card Size
The Solo 8 Plus can be fully extended and raised to cover a 13" x 21" shooting area. It scans standard sizes including 11"x17" (A3) area and can be lowered to scan smaller items like business cards or driver's licenses. Use Solo 8 Plus as a scanner to scan multiple pages into one PDF file.
Capture Vibrant Still Photos
Capture photos in clear 13 MegaPixel resolution (while still storing each image under 1MB). Capture multiple images based on time intervals or motion triggered shutter. Save in .jpeg, multi-paged .pdf, .png, .tiff and others.
SlingShot into Favorite Programs
Any file created with the Solo 8 Plus can easily be used in any of your favorite programs. Just click the SlingShot button in FlexVIEW to instantly drop your images or videos into Word, PowerPoint, Excel, Evernote, Interactive Whiteboards and more
Warranty
Solo 8 Plus is covered by a 2 year limited warranty and the warranty can be extended a third year when you register online at wwwlhovercam.com.
Minimum system requirements: Specifications

Hardware Specifications

Interfaces

Type :

USB 3.0

Lens System

Lens Aperture :

F/2.0

Focus Adjustment :

Automatic

Service & Support

Type :

3 years warranty with product registration

Service

Support Details Type :

Limited warranty

Support Details Full Contract Period :

3 years

Header

Manufacturer :

Hovercam

Packaged Quantity :

1

Product Line :

HoverCam

Model :

Solo 8Plus

Brand :

HoverCam

Miscellaneous

Compliant Standards :

FCC, RoHS

Color Category :

Gray

Optical Sensor

Optical Sensor Type :

BSI-CMOS

Total Pixels :

13,000,000 pixels

Sensor Size :

1/3.2"

Sensor Size (metric) :

7.9 mm (1/3.2")

System Requirements Details

Min RAM Size :

512 MB

Min Hard Drive Space :

1 GB

Processor Speed :

1.6 GHz

Video Input

Digital Video Format :

MJPEG

Digital Zoom :

8

Features :

Auto Focus Lock, Noise reduction, USB powered

Frame Rate :

120 frames per second

Optical Zoom :

10

Color or B&W :

Color

Computer Interface :

USB 3.0

Camera Type :

Document camera

Audio Support Features :

Built-in microphone

Audio Support :

Yes

Max Digital Video Resolution :

4224 x 3156

Connectivity Technology :

Wired

Dimensions & Weight

Width :

3 in

Depth :

4.7 in

Height :

10.2 in

Weight :

2.2 lbs