Beginner's Yearbook & Photography Club Digital Camera Mobile Lab
Item #: 2199-YB | Grades K-12


$1379.00
$75 off with coupon!
Use coupon code YBLAB75 at checkout. Offer good through September 30, 2015.
Save money and outfit your clubs with Tool Factory's Yearbook and Photography Digital Camera Lab. Get 6 Power Pro GE x400 bridge digital cameras for use in a wide range of photography settings. Tripods, beefy memory cards, backup rechargeable batteries, lens cleaning kits and a photography guide book round out what you'll need for taking great shots. The convenient storage case will lengthen the longevity of your cameras and provide transportation for all your cameras as a single unit. The hard case is practically indestructible and can be easily rolled from class-to-class. It will stand up to classroom abuse, and it's airline approved, so you're all set to travel.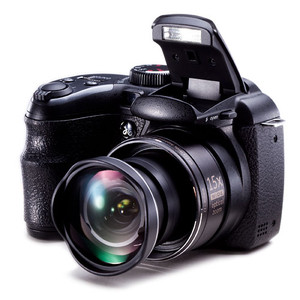 This lab includes:
6 14 megapixel digital cameras with 15x zoom and built in wide angle
24 Rechargeable batteries with 6 chargers
6 16GB SDHC Class 10 cards
1 Digital Photography for Educators book/cd set
1 hardshell, waterproof, FAA-approved carry-on crate
6 USB cables and shoulder straps
1 User Guide on CD-ROM
1 lens cleaning kit
1 Gorillapod magnetic tripod
5 Gorillapod original tripods
1 TSA lock

"The teacher saw the kit and it disappeared into their classroom immediately...with a 'Yea" as they left my office. The students wanted to take pictures NOW! " - Dr. Susan Banas, Lead Teacher, Richmond Heights Middle School


Gorillapod Magnetic Tripod
The world's most adaptable tripod just got more versatile! The Gorillapod, featuring flexible, wrappable legs, has long been the most versatile tripod for photographers on the go. With the addition of superstrong magnets in the feet, you can now position the flexible tripod on any magnetic surface. The magnetic feet, together with Joby's award winning ball-and-socket legs ensure that the Gorillapod Magnetic will firmly secure your compact digital camera or mini video camera to virtually any surface!
Gorillapod Original Tripod
Featuring over two dozen flexible leg joints that bend and rotate, the Gorillapod will firmly secure your compact digital camera to virtually any surface, allowing you to get in the picture and become part of the memories.
Energizer AA and AAA Battery Charger
Recharge Smart Charger features a countdown timer that shows how long until batteries are charged and a Battery Fuel Gauge that shows the charge status. Large visual display can be viewed from across the room. Bad Battery Alert detects alerts and shuts off charging when a non-NiMH or old NiMH battery is inserted. Charger charges two or four AA or AAA NiMH rechargeable batteries and charges batteries at a safe, steady rate, which improves the long-term health of the NiMH battery. Smart Charger includes four AA rechargeable batteries. Energy Star qualified.
Complete Lens Cleaning Kit
All the tools you'll need to clean your camera lenses.

What's Included With This Item:

Spray Cleaning Fluid
Cotton Swabs
Lens Cloth
3 Sheets Universal LCD Screen Protectors
Squeege Card
Lipstick Brush
Blower Brush
Lens Tissue
New Deluxe Storage Bag

Digital Photography for Educators Book (Printable PDF Format)
Learn the basics of digital photography and get step-by-step instruction on digital cameras. It's a great resource for teachers who need visual instructions at-a-glance. Simply browse the pictures for a quick understanding of the camera's icons and functions. Read the text for more indepth understanding of camera features and photography. It's packed with easy charts and visual images which "show" you how to use the camera. Bonus CD includes a 80 slide photography course.
Lesson Plan Name
Grades
Social Issues
10 to 12
Students work in groups to identify and create a video presentation of a social issue facing America. Students must conduct interviews and research on a topic and create a documentary of the issue and a conclusion.
Producing a Franchise to encourage global awareness, increased, informed decision making about health, peer relationships and education.
7 to 8
The students will determine categories of franchises from which to work out media productions for weekly broadcasts on our school news show.
Tree Trekkers
4 to 5
Students will photograph, identify, classify and write about trees in their school yard, the immediate neighborhood and in their own neighborhood. The will publish a booklet and/or a slide show about their trees.
Nuclear Scientists Project
7 to 12
Students will study the history of the Atomic Age. They will be talking about many chemists and physicists who added information to the atom model we use now and the development of the atomic bomb.
How Does Your Garden Grow?
K to 4
With the help of technology the children will be amazed witnessing the school garden change before their eyes! The work and dedication put into a garden will surely pay off when the digital presentation is viewed.
Schoolyard Jungle: What's Out There?
7 to 7
In the Schoolyard Jungle: What's Out There? project, students from Oberon Middle School will visit the school's outdoor classroom to photograph plants using OLYMPUS DIGITAL CAMERAS. After identifying and researching the natural history of their collected plants, they will use TOOL FACTORY SOFTWARE to create user friendly plant field guides and to build an Oberon Middle School Outdoor Classroom website and plant database that will continue to be utilized and updated by students in future years.
Classroom Booklet Adapted from Brown Bear, Brown Bear, What Do You See
K to K
Students will make pictures of animals using different colors as in the book mentioned. When they are finished, a photo will be taken of them and their picture.
Digital Storytelling
5 to 12
Students write more when they are inspired either by the topic or by the process. Using Movie Maker, students bring their creative stories to life and have a Windows Media Player as their final version of their work.
Learn and Serve Video
10 to 12
Students in my Multimedia class create a video on any topic related to the K-12 curriculum. They partner with a teacher in that subject / grade for ideas and then they script, video, edit, and publish a video that teaches the topic.
Poetry Alive! Interpreting Poetry Using Digital Images
9 to 12
A team of English students will take the role of a production company and will create a 4-5 minute film using the digital image as a medium for interpreting students' original poems. Three classes will be working together in order to complete this project: Creative Writing, English, and The Actor's Studio.