Single Hotspot Donation for Mobile Beacon's 4G LTE Internet Service for Schools
Item #: MB-2016X1 | Grades K-12


$0.00
Get Free 4G LTE mobile wi-fi hotspots with discount unlimited service for $10/month!
The Mobile Beacon donation program at Digital Wish provides free 4G LTE mobile broadband hotspots to eligible public and non-profit private schools throughout the United States. The
Coolpad Surf
hotspot is the new model currently being provided as a donation (A retail value of $62).
About the Digital Wish Hotspot Donation Program:
Set up a hotspot in your gym, cafeteria or anywhere there's a wireless dead zone in your school. You can use these 4G LTE mobile hotspots to connect compatible computers or Wi-Fi-enabled smartphones and tablets to the Internet from any location within the 4G coverage area. The 4G LTE hotspot modems must be used with a subscription to Mobile Beacon's 4G LTE discount mobile broadband service for schools.
This donation provides one 4G LTE Coolpad Surf mobile hotspot for connecting to Mobile Beacon's 4G LTE mobile broadband Internet service. Mobile Beacon Internet service is not included with this donation. To receive the donation, must purchase a subscription at the current school pricing of $120 for 12 months ($10 per month, paid annually in advance). Each hotspot you obtain requires a service agreement. You will be provided with a discount subsciption code and instructions for Mobile Beacon service setup when you request order this donation. You will receive your hotspots usually 5-10 business days after you place your subscription service orders.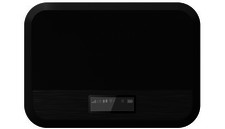 About the donated Coolpad Surf mobile hotspot device
This 4G LTE hotspot is small, yet mighty with an easy to use user interface and simple steps to get started. The Coolpad Surf connects up to 10 devices simultaneously, and the 2,600mAh battery lasts up to 45 hours standby or 6.4 hours of continuous use.
Feature List:
Portable and lightweight
WPA-Enabled
Ability to tether
Specs:
Battery information : 2600 mAh
Dimensions : 4.25" x 2.6" x 0.59"
Enjoy your own personal WiFi network
Memory : 128MB RAM / 256MB ROM
Powerful 2600mAh battery
Operating system : Linux 3.18
Processor : MDM9207, 1.3 Ghz
Weight : 3.4 Ounces
*Estimated value $62
Up to 11 hotspots available per school
- Members can order hotspots in blocks of 5 or 10 for greater savings.
Click here to order
. If your school exceeds the 11 device limit, please contact us at
[email protected]
to apply for a quantity extension.
Start a Hotspot Lending Pool
- Many schools are ordering 5, 10 or more hotspots to start a lending program for students without internet at their homes. You can check them out just like library books and content filters can be added for security.
Learn more HERE
.
Read how one school district created a hotspot lending pool to help students have home access to the internet in this article
HERE
Expanded coverge and faster speeds -
Now Mobile Beacon's new
COVERAGE AREAS
have expanded across the USA by using the Sprint network and with LTE, your internet speeds are faster with greater in-building coverage.
Access More. Teach More. Learn More.
Mobile broadband is revolutionizing education. It provides critical access to the Internet, resources and each other. This program can support a variety of educational needs:
Integrate more technology in the classroom, including BYOD and 1-to-1 initiatives
Create a low-cost back-up Internet source to ensure your lesson plans aren't interrupted by slow speeds or a lost Internet connection
Meet the broadband demands of the Common Core State Standards initiative
Provide out-of-school access to disadvantaged or at-risk students who do not have Internet access at home
Create instant wireless access to unwired areas of your buildings
Keep teachers, faculty, staff or students connected during field trips, sporting events, and other off-campus activities
Provide out-of-school mobile Internet access to teachers and staff to stay connected remotely and increase professional development opportunities
See real
examples
of how educators are using Mobile Beacon's wireless service to improve educational opportunities.
Reality Check
"About 21% of our students do not have internet access at home. "My students rely on Mobile Beacon's service to carry on their school work after the library closes to do research online, to access school resourses, or even submit assignments. Our community is very rural and there are no free wi-fi options." -
School teacher in rural Florida
Check for coverage:
Before completing your donation request, please check Mobile Beacon's coverage map,
here
.
A one-time $18 administrative fee applies on checkout*:Additional Devices Available at Standard Rates
Organizations may apply for Mobile Beacon's donation once during the same fiscal year (July 1 - June 30) and receive up to 11 hotspots with subscriptions. If you need devices beyond what is included through Mobile Beacon's device donation programs, additional 4G LTE devices can be purchased from Mobile Beacon at standard rates. There is no limit to the number of devices you can request, and Mobile Beacon provides free consultation to help organizations determine the best devices for their needs.
More great education benefits of using 4G LTE mobile broadband:
Offer video-streaming of school events to engage families and communities
Empower students to be active, creative, and knowledgeable contributors and content-developers through blogs, podcasts, online forums and peer reviews
Prepare students for the workforce by developing digital literacy skills
Web conference with experts and guest speakers to enrich the classroom learning experience
Meet the broadband demands of the Common Core State Standards Initiative
Bring wireless access to remote areas of the school building
Visit our Hotspot Program Support Page -
Get tips from other educators on the many educational uses for the hotspots and find out how your school can set up a Hotspot Lending Pool for Students
here
.
Lighting up the Internet in dark zones - "The Mobile Beacon devices saved us!
Until last year, only the main buildings of the school had internet access, even for teachers. But we had teachers and classrooms outside in the portables. Before the devices, teachers had to come into the school on their free time to enter attendance and grades on the computer. With the Mobile Beacon devices, all teachers were able to use the technology straight from their own classrooms even if they were in the portables.

Also, the Mobile Beacon devices have been a great boon to our Broadcast Magnet program. Many programs and news feeds are blocked or so slow that the Magnet students had issues getting the video they needed. With the mobile hotspot, the students were able to download needed video to share as well as upload their own videos for competitions."
Dr. Suzanne Banas, NBCT - South Miami Community Middle School
More about the Mobile Beacon donation and service programOne-Year Prepaid Service Agreement Required
Educators that participate in this offer must agree to pay Mobile Beacon in advance for one year of 4G LTE mobile broadband Internet service for each device received. The current education & nonprofit pricing for this service is $120 for 12 months ($10 per month, paid annually in advance). Digital Wish is not a party to this agreement. Refunds for the service must be requested directly from Mobile Beacon within 60 days of receiving it. See Mobile Beacon's
limited refund policy here.
Mobile Beacon Internet Service
The 4G LTE wireless broadband service offered by Mobile Beacon uses the Sprint network . Its download speeds average
6 to 8 megabits per second with peak speeds up to 25 megabits
.
Verifying Coverage
Organizations must confirm that the location where they will use the Mobile Beacon service falls within the Mobile Beacon 4G LTE coverage area before requesting this offer.
Verify coverage now
.
Choose Carefully
The administrative fee for this product is not refundable, and the product cannot be returned unless defective.
Obtaining This Product
A one-time $18 administrative fee will be applied at checkout.* You will need to activate the $120 annual 4G LTE plan with Mobile Beacon for the donated device you'll receive. Digital Wish will email you a subscription code and instructions. A school, organization or personal credit card is required to process your subscription service with Mobile Beacon. The hotspot modems will be activated and shipped to your school address. You will renew Internet service directly through Mobile Beacon. If you find that you need more mobile hotspots after the first year, you can return to Digital Wish and request more Mobile Beacon products.
Additional Program RulesOrganization email addresses required
- All accounts require that email addresses must be affilated with the school, not a personal email address.
Case study:
Recipient organizations must be willing and able to provide information to Mobile Beacon for the purposes of creating a case study or testimonial on this program.
Product distribution:
Products will be distributed under this program to qualifying schools and educators only. Recipient organizations may not transfer or resell Mobile Beacon products.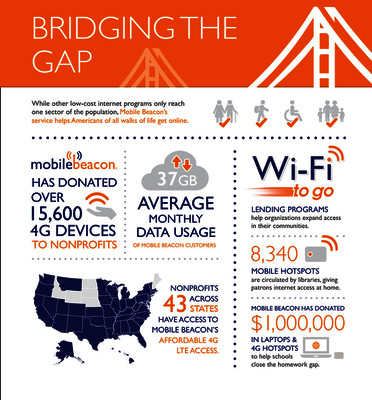 Frequently Asked Questions
1.
Who qualifies for this program?
Educators employed by Public and Private Non-Profit PreK-12 and higher education organizations qualify for this program. Other educationally based non-profit organizations may also qualify. Contact
[email protected]
for assistance.
2.
I'm a teacher that does a lot of lesson plan creation and research at home. Can I use the device away from school?
Absolutely! Mobile Beacon wants teachers to have anytime, anywhere access available.
3.
Do we need to order the device through our school administration?
No, - you can order service with personal credit cards, but you must be an employee of a school and you must use your official school email address to be eligible.
4.
Some of our students don't have internet at home. Can we get the devices for their home use?
YES! Digital Wish and Mobile Beacon believes internet equity for students is very important. A key benefit of this program is to help give all students equal access to the internet for their schoolwork. While families cannot directly order Mobile Beacon's service and get donated hotspots directly through this program, we have worked with school districts to set up Mobile Beacon programs to bridge the digital divide. Some districts appy for quantity extensions to get a lending pool of mobile hotspots for students to use for working on assignments at home. Other districts have set up service payment plans for families needing the devices for their children. Schools purchase the service and get reimbursed from families.
Contact [email protected] to learn more and get assistance with setting up the best program for your district.
5.
Is the service plan linked to the mobile device?
Yes, the device is linked to the plan. This is a great bonus, because the hotspots can connect up to 10 Wi-Fi enabled devices. For example, if you're on a field trip with students, you can bring along three of the hotspots and have up to 30 students accessing the web at one time.
6.
If ordering several devices, can I just order one service plan now to make sure it works for us?
Yes, you can order one device now and activate the others at any time within the fiscal period (ending on June 30th). You can cancel your subscription within the first 60 days after activation if the service does not meet your needs. Please contact Mobile Beacon directly to cancel your service plan. You will be issued a refund for any unused months of service. -
Important
: Keep the original modem box packaging and all accessories. A return of the device cannot be processed unless it is complete in original packaging!
7.
Do I need to order by June 30th?
You can order at any time. We allow up to 11 devices per school per fiscal year which ends on June 30th. If you order your annual limit of 11 before June 30th, 2017, then you can get another 11 devices after July 1, 2017. If your school exceeds the limit and more teachers need devices or you want to set up a student Hotspot Lending Pool, you may apply for a quantity extension. Contact
[email protected]
to apply.
8,
How many wireless phones, iPads, tablets, etc. can I connect to a Mobile Beacon device?
Hotspots provide access for up to 10 wireless phones, tablets, etc.
9.
Will the annual service cost increase after my first year?
Mobile Beacon strives to keep the rate at $10/month and has done so over the past 5 years. Should it change in the future, our customers would be notified in advance.
10.
What happens if my hotspot is broken, lost or stolen?
If your hotspot fails because of a defect, it is covered by a one year manufacturer's warranty. If you break , lose it or it's stolen, you will need to purchase a new hotspot from Mobile Beacon directly at $120/unit plus shipping and handling. Your service plan would be transferred to the new device and the old one would be deactivated.
Important:
Record the MEID/IMEI number number on the back of the hotspot and keep it in a safe place. You will need this number when contacting Mobile Beacon about issues with the devices.
11.
Are the devices CIPA compliant?
A CIPA compliant tool is available for interested customers. If you are interested, please email
[email protected]
with the subject line "Content filtering for Mobile Beacon devices." A customer service representative will reach out to you with more information.
Additionally, we recommend schools who are loaning out devices to have students/parents be given cyber security/ cyber bullying materials from their district and also have them read / sign the district's Acceptable Use Policy.
About Mobile Beacon
Mobile Beacon provides high-speed, low-cost, mobile internet access to the anchors of communities: the nonprofits, schools, libraries and healthcare organizations that provide vital services to millions of Americans every day. Through this broadband service, organizations have an essential tool to fulfill their missions and maximize their philanthropic impact, which allows organizations to access more information, reach more people, and help more in their communities. Learn more at
www.mobilebeacon.org
.
* The administrative fee helps to support our work in serving K-12 educators in the US. This helps cover our costs for credit card transaction charges, delivery of products to schools, customer support and verification services, staffing and overhea
Minimum system requirements
: For all 4G devices — activated Mobile Beacon 4G LTE mobile broadband Internet service is required (not included)
Coolpad Surf hotspot product specifications:
Battery information : 2600 mAh
Dimensions : 4.25" x 2.6" x 0.59"
Enjoy your own personal WiFi network
Memory : 128MB RAM / 256MB ROM
Powerful 2600mAh battery
Operating system : Linux 3.18
Processor : MDM9207, 1.3 Ghz
Weight : 3.4 Ounces