Belkin Portable Tablet Stage Stand for Presenters (iPad, Kindle and more)
Item #: B2B118 | Grades K-12


$139.99
Belkin Portagle Tablet Stage: Present, Teach and Collaborate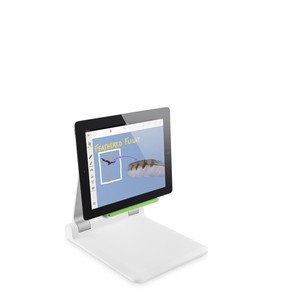 The Belkin Portable Tablet Stage is a travel-friendly stand designed to enhance your tablet experience. Perfect for presenting, reading, recording video or surfing the web, this lightweight, durable stand also folds flat so you can take it with you wherever you go.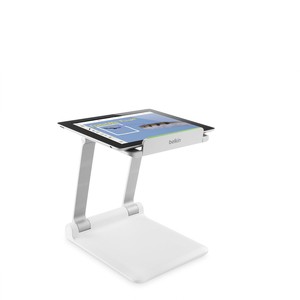 Features
- Stable, adjustable platform
- Captures images and live video of objects and text
- Perfect for presentations and collaborating
- Folds into a flat, lightweight package
- Integrated cable management
- Case-compatible design
- Works with the Belkin Stage™ App
Adjusts to the most ergonomic angle
The Belkin Portable Tablet Stage features an adjustable platform that lets you position your mobile device at the ideal angle for recording video or capturing images of objects, textbooks or documents. The integrated cable management system keeps your desk, podium or workspace neat and clutter-free.
Perfect for travel
The Belkin Portable Tablet Stage folds up quickly and neatly, so it's easy to carry along with your tablet, smartphone and any other accessories. Its lightweight, compact design makes it ideal to use whenever and wherever you need to give a presentation or collaborate with others.
Easy setup
Setting up and using the Belkin Portable Tablet Stage is a breeze -- just connect your tablet or smartphone to a display system such as a projector, monitor or HDTV, launch the Belkin Stage™ app, and you're ready to share real-time images and notes with your audience.
At A Glance:
- Document camera mode captures images and live video of objects and text
- Podium mode is perfect for presentations and collaborating
- Folds into a flat, lightweight package that's easy to transport
- Adjusts easily for ergonomic use and ideal camera position
- Integrated cable management reduces clutter
- Compatible with smartphone and tablets, with or without cases
- Works with the Belkin Stage™ app
Belkin Stage™ app
Complete your presentation toolkit with the free Belkin Stage app, an interactive whiteboard and document camera app. Stage makes it easy to capture images or live video on your tablet, overlay text and labels, highlight key points throughout the presentation, and share your content in real time over AirPlay or a wired connection. Available in the Apple App Store or Google Play.
Compatible with:
iPad 3rd gen, iPad 2, iPad (Original), iPad mini, iPad 4th gen, iPad Air, iPhone 4/4S, iPhone 3/3GS, iPhone (Original), iPhone 5/5s, iPhone 5c, Galaxy Tab - 10.1", Galaxy Tab - 8.9", Galaxy Tab - 7", Galaxy Tab 2 - 10.1", Galaxy Tab 2 - 7", Galaxy Tab 3 - 10.1", Galaxy Tab 3 - 8.0", Galaxy Tab 3 - 7.0", Galaxy Note, Galaxy Note 8.0, Acer Iconia, Kindle/Kindle Touch, Kindle Fire, Kindle 3/3G, Kindle HD Fire 7", Kindle HD Fire 8.9", Kindle Paperwhite, New Kindle Fire HDX 8.9", New Kindle Fire HDX 7", New Kindle Fire HD 7.
A
large Tablet Stage Stand
is also available at $197 and free shipping until November 15, 2014..
Lesson Plan Name
Grades
Fit or Fat?
6 to 8
Students will be involved in a Science and Health lessons that involve nutrition and exercise. They will create Healthy Snacks and exercise profiles for the class.
Dream Vacation
6 to 6
In this project, students will create an itinerary, budget, route, and poster based on their choices about their Dream Vacation. Students will be given restrictions such as a $20,000 budget, must include a family of 4, must travel for at least 5 days, and must be outside of Pennsylvania and the surrounding states.
Using laptops to make short films
9 to 12
My dream is for all students to have a laptop, in order to incorporate academic content through film creation. Computer resources used are FinalDraft and FinalCutPro.
What can I learn about myself and others
10 to 12
My kids have autism, ADD/ADHD, and emotional disturbance. They create a introduction using SeeSaw ( a school app). This can be done through art,video, writing or photo. They add descriptive details on their post and then share it with their classmates who then post a comment.
The More You Know: Designing Creative Solutions for Waste Reduction and Recycling
2 to 6
This lesson outlines the conclusion of a larger unit plan based on the United Nations Sustainable Development Goals. Since these goals highlight global challenges that require innovative thinking and collaboration in order to develop possible solutions, the Design Process was also used to guide students throughout all aspects of the unit. Introductory lessons focused on the first two steps of this process: identify the problem and research possible solutions. Third grade is specifically working on Goal 12: Responsible Consumption and Production, so they began by making connections between this goal and their own lives. After identifying numerous problems related to Goal 12 within Montgomery Township, they ultimately agreed to concentrate their efforts on the waste and recycling management at MMR. Students then conducted an assessment of MMR's waste stream in order to identify how much waste was being produced every day and how much of that waste could be recycled. Using the data collected, they moved on to the plan and create phase of the Design Process during which they developed proposals for a new system to manage the waste and recycling in the school cafeteria and within each classroom. As a whole class, we selected the best proposal to move further along in the Design Process. At this point, students are preparing to test & improve the decided upon plan before they conclude the unit using the school's broadcast studio equipment to produce a Public Service Announcement (PSA) that will be aired for the entire student body. The PSA will allow students to communicate the results of their efforts, spread awareness about an important issue, and inform the school community on how we can work together show respect for the environment.
Utopian Society
7 to 8
Students will research, design, and present a Utopian society in conjunction with reading the novel THE GIVER.
My Famous Face
9 to 12
The students will take a 'portrait' picture of themselves with their device using a selfie-stick if need. They will recreate their portraits in the style of an artist who made many 'selfie' portraits of themselves during their lifetime (EX; Van Gogh, Warhal, etc.)
Cherokee Unit- Lesson 1: Cherokee Religion and Culture
7 to 8
In this unit, students will learn about the beliefs, practices and traditions of Native American groups in North Carolina, specifically the Cherokee people, and explain how European explorers and settlers impacted these groups.
The Waning Moon
4 to 5
Students will create a short claymation video to explain the phases of the moon and what we can learn from them.
Career Creation
5 to 12
Students will do career investigations based upon personal interests, skills assessments, counselor recommendations, dreams, parental guidance, etc. and develop a "Build Your Own Destiny" Google Form. Included in the Form will be pictures, videos, and links.